Moosejaw to Carry Hustle Bike Labs' REMTech Avery Pedals, Future Products
January 23, 2022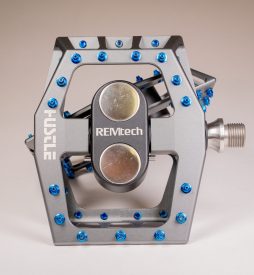 With a large inventory of pedals in the warehouse, Hustle looks to grow its reach with this key online Retail Partnership.
Gunnison Colorado (January 23, 2022) /ENDURANCE SPORTSWIRE/ – Hustle Bike Labs – which has received considerable accolades for its Hustle Avery Pedal, a magnetic clipless-platform-hybrid design, since long before production even began – has signed with Moosejaw.com to carry these pedals and potential future products from the highly innovative startup.
The deal coincides perfectly with the recent arrival of a major shipment of pedals, after long Covid-related delays. Moosejaw will carry the Hustle Avery pedal online and at select stores, starting with their Bentonville, Arkansas location. They will retail for $219. Along with the overwhelming response to the product over the past year, from media and consumers alike, Moosejaw is also clearly impressed.
"We are really pumped to see the Hustle Bike Labs team grow from our Outdoor Accelerator to now launching their revolutionary new Avery pedal," says Eoin Comerford, CEO of Moosejaw. "Our customer surveys have shown that traditional clipless pedals are one of the biggest sources of outdoor mishaps, so we know that the Avery will be a total game-changer that addresses a real need in the market."
The pedals are designed as the ideal go-between for traditional clipless pedals, which offer spring-loaded 'hold' for the rider's foot, and 'flat' or platform pedals with a wider surface area but no actual foot hold. The Avery, the original model, features a combination of both: The alloy body increases surface area considerably over clipless, and powerful Neodymium magnets replace spring-loaded engagement for a much easier, more ergonomic step-in and release, and virtually unlimited float.
With inventory finally in stock and ready to ship, Moosejaw will begin offering the pedals in late February/early March and plans to carry future products Hustle may bring to market in the near future. Hustle also currently offers DTC sales through its web store. Their team is equally thrilled and honored by the new partnership.
"We are really excited about what we've been able to accomplish, especially in these constantly changing times," says Hustle Founder Craig Payne. "The opportunity to work with an iconic brand like Moosejaw has been like icing on the cake for us. They see the potential of our Avery pedal and other cutting-edge products for their customers, which is simply amazing! We are really stoked that they can see the quality, value, and effectiveness of our products."
Moosejaw's relationship with Hustle stems from Hustle's completion of the Moosejaw Outdoor Accelerator program in 2019. This intensive 8-week business-mentoring program nurtures startups by providing business model coaching, investor connections, marketing support and a large outdoor recreation network. The Accelerator is the product of a collaboration between Moosejaw and the ICELab, a leading outdoor-focused accelerator on the campus of Western Colorado University in Gunnison, CO. Applications are currently open for this year's Moosejaw Outdoor Accelerator.
AVERY PEDALS AT A GLANCE:
MSRP: $219
Weight: 750grm/pr
Available in 3 colors: Blackjack Black, Diode Blue, Gunmetal Gray
Moosejaw.com is renowned for its focus on the outdoors, and they enjoy both a large online presence as well as brick and mortar stores across the country. They have also been named a Top 50 retailer by Internet Retailer, Bizrate, and Best of the Web by Forbes magazine.
Hustle will be exhibiting their wares in the Outdoor Retailer Winter Market next week: Swing by their booth (34071) to meet the team and check out the pedals and other products firsthand.
For MEDIA inquiries please contact SIMBOL Communications, their Agency of Record: nic@simbolpr.com
Born from a near-death MTB experience, with the founder literally hanging from a cliff in Moab, Hustle Bike Labs has reinvented the mountain bike pedal using Rare Earth Magnets on a flat pedal body to create the perfect hybrid of traditional clipless and platform pedals. The resulting REM Pedal System offers the best of both systems and eliminates their inherent flaws. They plan to continue identifying needs in cycling products and addressing them with the same keen eye on safety, efficiency, and user-friendliness.