MAAP Launches Alt_Road Collection
October 7, 2021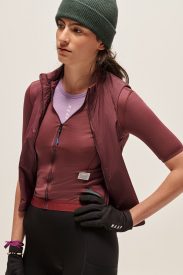 Durable, hardwearing, and engineered for an alternative path.
Durable, hardwearing, and engineered for an alternative path.
Following months of testing on gravel, open road, dirt, and through the grit, MAAP have revealed their new Alt_Road collection; showcasing performance products done sustainably for riders who want to take a turn off the ordinary, onto whatever.
This Melbourne-based brand's new collection highlights jerseys made with NATURALMATCH® wool technology, an exclusive development in partnership with Miti Spa in Bergamo, Italy. Utilizing the perfect blend of natural and high-performance synthetic fibers, this soft-to-touch, renewable fiber source, extra-fine merino wool provides supreme temperature regulation, taking you from chilled mornings to searing mid-afternoon heat. Combined with anti-microbial and anti-odor properties, the materials can perform in extreme conditions for multi-day rides even with repeated use.
Functional cargo bib shorts serve as the base for off-road escapes with odor-resistant tees that offer next-to-skin moisture management and 50% Recycled PET fiber content, thermoregulating vests, and windproof thermal jackets set against a color palette inspired by nature's earthy tones. Featuring partnerships with Polartec® and Apidura, Alt_Road will take you places you've never seen before.
"Alt_Road is a natural evolution for us as a brand. The days are gone where riders are loyal to one discipline. The product reflects the needs of our athletes and riders around the world, engineered to perform at an elite level, whatever the road surface," said Ollie Cousins, MAAP Co-Founder.
The Alt_Road collection is available now via maap.cc or your local MAAP dealer.
Collection List
Men & Women:
Alt_Road Jersey
Alt_Road Long Sleeve Jersey
Alt_Road Cargo Bib
Alt_Road Thermal Jacket
Alt_Road Thermal Vest
Alt_Road Tee
Alt_Road Tee Long Sleeve
Accessories:
Alt_Road Gloves
Alt_Road Merino Sock
MAAP x Apidura Frame Pack
---
Access the full collection of product and lifestyle images with this Dropbox Link.
Access MAAP's logo with this Dropbox Link.
For media inquiries please contact:
Garin Fons / c: +1 952 239 1422 / e: garin@igtstudio.com
InGoodTaste for MAAP
Instagram | Facebook | Linkedin
ABOUT MAAP
MAAP was established in 2014 to develop the art and progression of cycling through a considered approach to style, innovation and performance. With a fresh blend of bold patterns and technically advanced performance fabrications, MAAP's products are designed for a global community of cyclists pushing their training, racing and adventuring to ever greater levels.