Life Time Sea Otter Classic Boosts Monterey County Economy
April 25, 2022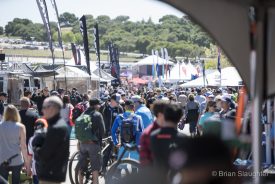 The annual cycling event is a key economic driver with a nearly $72 million economic impact on Monterey County
MONTEREY, CA/ENDURANCE SPORTSWIRE/ – A recent study of 2022 Sea Otter Classic attendees reveals the event's significant economic impact on Monterey County. Spending associated with the Sea Otter Classic accounted for $71,896,388 in direct and indirect expenditures.
"The Life Time Sea Otter Classic is an important event for the cycling industry and a significant driver of tourism and economic activity for Monterey County," said Sea Otter Classic founder Frank Yohannan. "In addition to the economic, social and health benefits it provides our residents, the event is the largest gathering of cycling enthusiasts in North America. Sea Otter is the premiere event for professional networking and provides a terrific opportunity to introduce a new generation to the wonderful sport of cycling," Yohannan added.
The economic impact analysis included key factors such as the number of participants and party size, hotel spend, average stay, and daily spend. The total amount spent on lodging was $16,445,766. Participants spent $10,130,537 on food and beverage, and an additional $14,507,436 on shopping, travel, tourism and entertainment. Over 30% of attendees have a median household income in excess of $200,000.  Eighty-six percent of the participants travelled more than 50 miles and stayed in Monterey County for an average of four days.  Analysis was conducted with a model provided by the Walton Family Foundation and PeopleForBikes.
The 32-year-old event annually draws visitors from around the world to the largest gathering of cycling enthusiasts in North America. Sea Otter Classic was the primary reason 91 percent of those surveyed visited Monterey and surrounding communities. Participants enjoyed four days of action-packed racing, recreational tours, and events. The Expo featured 750 exhibiting brands, launching new products, hosting exciting giveaways, and meeting consumers. Over 340 international media representatives converged at Sea Otter Classic to cover the action. Event satisfaction was very high, with 95 percent of respondents recommending the event to friends and colleagues.
ABOUT: Known as the "World's Premiere Cycling Festival", the four-day Life time Sea Otter Classic hosts cycling enthusiasts from around the world. For more information visit www.seaotterclassic.com. In 2021, Life Time, Inc. purchased the Sea Otter Classic. Over nearly 30 years, Life Time (NYSE: LTH) has reshaped the way consumers approach their health through omnichannel, healthy way of life communities that address all aspects of healthy living, healthy aging and healthy entertainment. More than 30,000 Life Time professionals are dedicated to providing the best programs and experiences at more than 155 Life Time athletic resort destinations in the United States and Canada, and via a complementary, comprehensive digital platform and portfolio of iconic athletic events – all with the objective of inspiring healthier, happier lives. For more information visit lifetime.life.
MEDIA CONTACT: Holly Colson, holly@seaotterclassic.com
###