Life Time Hosts More than 7,200 at 24th Annual HOKA ONE ONE Chicago Half Marathon/5K
September 27, 2021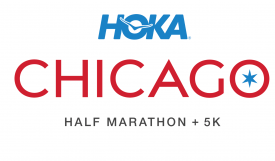 Athletes from 45 states and 21 countries ready to pound the Windy City pavement
Chicago – (September 26, 2021) The HOKA ONE ONE Chicago Half Marathon and 5K, owned and produced by Life Time, was held for the 24th time today in Chicago's historic Jackson Park, after a year off due to COVID-19. More than 7,200 runners toed the line to enjoy the course, which features breathtaking cityscape views, a lakefront breeze, vibrant neighborhoods and the beauty of the Windy City, with the popular 5K offering part of the same course as the half marathon and the same start and finish lines. 2021's athlete field represented 47 states and 21 countries and included a wide breadth of ages, with the youngest runner 14 years old and the oldest 85.
"The weather, the runners' positive attitudes, and a sense of gratefulness for races returning made for a really successful event," said Bekah Sands, Senior Marketing Director at Life Time. "At nearly two and a half decades of establishment, this race is now an iconic experience of the city and we can't wait to see even more people return to claim their enormous medals, a signature takeaway of this race, in 2022."
Top-three winners in the women's overall division for the half marathon were:
Polina Hodnette, 34, of Chicago, Ill. – 1:21:33
Laura Addison, 28, of Denver, Colo. – 1:25:19
Sarah Zieve, 26, of Washington D.C. – 1:25:36
Top-three winners in the men's overall division for the half marathon were:
Henry Mierzwa, 24, of Park Ridge, Ill. – 1:08:18
Michael Ellenberger, 29, of Chicago, Ill. – 1:08:39
Mario Alberto Martin, 24, of Puebla, Mexico – 1:09:04
Top-three winners in the non-binary overall division for the half marathon were:
Francisco Martinez, 42, of Chicago, Ill. – 1:37:42
Elliott DeVore, 32, of Chicago, Ill. – 1:55:20
Terrence Keleher, 62, of Oak Park, Ill. – 2:01:59
In addition to the in-person events, virtual race options for both the Half Marathon and 5K were available for those athletes who are unable to attend this year's festivities. Athletes had from Sept. 23-26 to complete their run and submit their time, and will receive their medal and swag bag in the mail within the coming weeks.
The Chicago Half Marathon/5K is owned and produced by Life Time, the premier healthy lifestyle brand which owns and operates 11 premium athletic resort destinations in Chicagoland, along with the Chicago Spring Half Marathon, Chicago Triathlon, and Turkey Trot Chicago.
About Life Time®, Inc.
Now nearing its 30th anniversary, Life Time is a wellness pioneer reshaping the way consumers approach their health by integrating where we move, work, live and play – digitally and physically – all with the primary objective of delivering the best experiences and programs in the best places by the best people and performers—inspiring healthier, happier lives. With more than 150 destinations in 41 major markets across the U.S. and Canada, Life Time operates luxury athletic resorts, owns and produces iconic athletic events and is expanding its brand though Life Time Work premium coworking spaces and Life Time Living high-end leased residences. For more information visit lifetime.life.
# # #
Media Contact: Jordan Titus | jtitus@lt.life
Downloadable images and b-roll HERE