Legendary speaker line-up announced for Run Show Boston, Feb 2023
December 5, 2022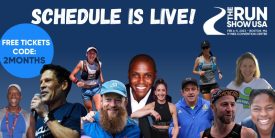 Just two months before the debut of the Run Show USA opens its doors to the city of running, Boston.
/ENDURANCE SPORTSWIRE/ – Just two months before the debut of the Run Show USA opens its doors to the city of running, Boston, the organizers have announced a stellar line up of inspirational speakers. Two main stages will host Olympians and world record breaking athletes offering inspiration and insights into their careers, as well as educational sessions to help upskill visitors' technique and experience. FREE tickets are now available for the weekend February 4-5, 2023 at the Hynes Convention Center at www.runshowusa.com/boston using code 2MONTHS
The running expo will welcome runners from across the states looking to improve their skills and knowledge about their passion for running. Across two stages – the Marathon, Track & Road Stage, and the Trails & Ultra Stage – there will be over 30+ speakers and multiple sessions to cover everything from improving your running, preparing for your next event, finding a community in running, inspiring achievements and more.
The Marathon, Track & Road Stage will be hosted by well-known Race Announcers Rudy Novotny Steve Fleck will host the Trails & Ultra Stage all weekend at the expo.
Autographs & Selfies
The program is headlined by Carl Lewis, the 10-time Olympic gold medalist who will open the show on the Saturday at 9am, then give an interview on the Marathon, Track & Road Stage soon after, giving insight into his many sporting achievements of his long career. Visitors seeking inspiration on the trails or ultras will hear from running greats Barkley Marathoner Gary Robbins, Badwater 135 winner, Sally McRae and legendary ultrarunner Dean Karnazes, all masters in their own disciplines and distances. Dean and Sally will also be part of a panel discussing the realities of Badwater 135 on Sunday afternoon.
Grass Roots Inspiration
The expo is designed to attract all levels of runner, from grass roots to advanced and this is reflected in the line-up of the speakers chosen for this event. Cancer survivor and amputee, Jacky Hunt-Broersma will kick off our Trail & Ultra stage on Saturday morning by telling her story of running 104 marathons in 104 days. Tony Reed, Executive Director of the National Black Marathoners Association, will share his running world tour, share his experiences and sights on his route.
Alyssa Clark (most well-known for running 95 Marathons in 95 Days setting a Women's Guinness World Record) will share the highs and lows of back-to-back marathons, and how the global pandemic gave her a new resilience. Scott Jenkins will be seen teaching visitors how to 'make resilience your running superpower' whilst Kelly McLay will inspire runners to say yes to a challenge even when feeling scared!
For New Runners
Partner to the show, the Boston Athletic Association, organizers of the Boston Marathon, is hosting two sessions each day. The first, 'Finding community in running', will explain how running with others will support and motivate a runner. The second, 'From beginners to high performance athletes' explains how running clubs can improve a running journey.
Improving techniques
The schedule offers visitors tips to take away from the expo and help to improve their running technique. Coach Alli, Founder of RUNWITHALLI™ Alli Felsenthal's session: 'Specialized strength and technique drills for distance running' will share her expertise and tips on technique to help runners conquer new distances.
Alongside an incredible program of inspirational speakers, the show will offer more than 100 brands for this debut event including Marathon Sports, Altra, Aetrex, Boston Athletic Association, Coros, Oofos, Darn Tough, Therabody, PUMA and Asics too. The brands will provide a shopping experience for visitors, offering the latest running products at best show prices as well as competitions, give aways and swag.
Event Director, Craig Hanratty commented "We organize expos to ensure sports are accessible for everyone, so it is important that we invest in a speaking program to inspire the community to start or improve their running journey! We are building the biggest expo for the running community in Boston to help runners prepare for their challenges coming up in 2023, running is free and fun so we are so excited to bring the community together in Boston for a 'ComiCon for runners' "
To get a FREE ticket to the event (limited availability) visit https://runshowboston.seetickets.com/tour/run-show-usa-boston To sign up for a booth or sponsor the event, contact craig.hanratty@raccoonmediagroup.com
###
Editor's notes:
About Raccoon Media Group
The Run Show USA was conceived by Raccoon Media Group Founded in 2016, Raccoon Media Group is a dynamic U.K. events business run by a group of exhibition and digital marketing experts with experience in organizing consumer expos worldwide. The company is headquartered at 2 Bell Court, Leapale Lane, Guildford, GU1 4LY, UK. info@raccoonmediagroup.com, +44 0203 770 9303, www.raccoonmediagroup.com @runshowusa
For all media queries about Run Show Boston, if you need any high-res images/logos or have got any interview requests please contact Chloe Hyland, chloe.hyland@raccoonmediagroup.com