Leading Compression Brand CEP Announce Partnership with Sales and Distribution Agency Fit Brands
February 17, 2022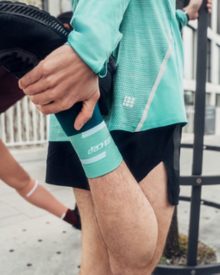 /ENDURANCE SPORTSWIRE/ – Leading compression specialists CEP have built a reputable network of retailers across Europe, growing from their foundation in Germany. With views to now firmly establish the brand in the UK, CEP have joined forces with sales and distribution agency Fit Brands. As part of the new partnership, Fit Brands will be striving to build the reputation and credibility of CEP within the UK as well as building a stronger presence within UK stores. Fit Brands will be targeting core accounts and educating retailers on the CEP product range and what sets it apart from competitor brands within the compression category.
Founder of Fit Brands, Jon Dennis, is a former professional runner with over 30 years of experience within the running industry.  The company was formed to introduce premium international specialty brands, like CEP, to the UK market. Mark Ash joined the Fit Brands team in 2020, having worked extensively within the UK sports industry in both regional and international positions. Mark will be taking a direct role in developing the CEP brand into the run specialty channel in the UK.
Annemarie Boehm, CEP Business Development Manager, said: "We are delighted that Fit Brands has joined forces with CEP to consolidate and deepen the brand's presence in the UK as world leaders in sports compression. With Fit Brand's extensive knowledge, experience and reach across the sports retail sector CEP will be responding to the increasing demand for superior sports compression. Our ability to supply from our state-of-the art manufacturing facility in Germany means we can satisfy this growth in demand for sports product excellence."
Mark Ash, Principal at Fit Brands, said, "We are excited to add CEP to our portfolio of specialty brands.  When identifying brand partners, we look for premium products, clean distribution, and a specialty retail focus.  We have watched the development of CEP for some time and are honoured to have this opportunity to work with them in the UK.  Our established retail network fits seamlessly with CEP's objectives and we look forward to continuing to establish them as the leader in compression products."  
For more information about CEP please visit www.cepsports.co.uk. The team can also be found on Facebook and  Instagram.
———————————————————–ENDS————————————————————-
CEP was launched in 2007 with the mission of offering medical-grade compression wear to the general public. CEP now offers a wide range of products from socks and tights to shorts and shirts for running, training, hiking and skiing. All of their products are developed in collaboration with renowned scientists, sports physicians, pro athletes and designers specifically for the respective sport and are produced to the highest quality and standards.
CONTACT
Amy Flynn – Compete PR
Email: amy@competepr.com
Phone: +44 7840 182 867