Latest Fitness Tech EnvisionBody Connected Fitness Reveal Washington Post
February 18, 2021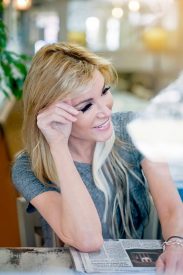 TAMPA BAY, Fla., Feb. 18, 2021 / Salina Ray, owner of EnvisionBody was interviewed by The Washington Post regarding edgy AR/AI technology and fitness.
Dalvin Brown, innovations reporter for the Washington Post, wrote, Imagine burning calories on the latest, trendy stationary bike to tackle your New Year's fitness resolutions.
Your heart rate jacks up as you lean forward, elbows relaxed, eyes fixated on a built-in screen. The display doubles as a high-tech mirror, reflecting a more fit version of yourself that's perhaps five pounds slimmer or that has a bit of added muscles.
A new take on before and after photos is the thought-provoking idea behind EnvisionBody. Think of EnvisionBody like an immersive Snapchat lens that digitally reveals what you would look like with up to a 30 percent increase or reduction in weight or muscle mass.
Founded in 2013, the company has a trio of patents to cover an image's ability to change in conjunction with exercise exertion. The platform uses heart-rate-sensor data, computer vision and artificial intelligence to show your possible future results based on your current body shape and how much effort you put into a workout. For instance, the longer you walk on the treadmill, the more body enhancement would occur on the screen.
The business is in its development phase, having talks with leading diet companies to see how it could roll out to customers wanting a sneak peek at what adhering to meal plans could earn them.
The ongoing pandemic forced active Americans to slam on the brakes and adapt to remote fitness. The $94 billion fitness industry scrambled to adapt. As gyms closed and faced capacity restraints, studios launched apps and virtual personal training as a way to keep memberships going.
Meanwhile, fitness gear flew off the shelves, and high-priced items, such as Lululemon's interactive Mirror and Peloton's flagship stationary bike, suddenly made more sense to more people. Apple also got in on the race, launching its Fitness Plus subscription service, Brown, wrote.
"We should leverage this generation of AR/AI technology to motivate people to achieve their fitness goals and I would argue we have a responsibility to do so. Obesity is a heavy burden on our healthcare system and economy, "EnvisionBody owner, Salina Ray, says. "Before and after images have been used for years to sell products or services because that is what motivates people to take action", Ray says. "It makes sense to bring the outdated historic use of before and after still images up to this level of high-tech fitness engagement by utilizing advanced AR/AI technology. The burden is on us pioneering the technology to be responsible about it though. Providing strictly healthy images was the first consideration when developing the company and three granted patents. It is written in the first patent filed that the software has a stopping point that only allows the image displayed to be within a certain weight loss range or increased muscle mass. "Salina Ray, says.
You can find the article,  One solution for keeping you motivated during workouts: A digitally enhanced reflection in the Washington Post.
About EnvisionBody
EnvisionBody serves as an AR & AI multi-patented software tool that operates alone or integrates with fitness machines and/or weight loss apps; leveraging the latest technology to mitigate the burden of the global obesity epidemic causing strokes, hypertension, cardiac issues, and cancer that is overwhelming our economy.
More information is available at EnvisionBody.com.
Salina Ray may be contacted at Salina@EnvisionBody.com
SOURCE EnvisionBody