'La Vuelta Virtual 22' June's Warm-Up Racing Series – Win A VIP Experience in Madrid from home
June 16, 2022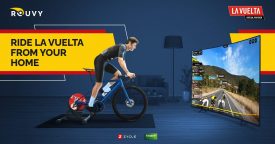 Preparation for Vuelta a España kicks off next week with the open virtual events with the riders from the UCI Pro Team Equipo Kern Pharma and SCOTT CALA BANDIDA. ROUVY, the official, multi-year provider of La Vuelta Virtual, presents the immersive, "virtual and real" multi-stage digital version of the 2022 Spanish Grand Tour. Available for anyone from home, the community racers will fight for the trip to an in-person grand finale in Madrid and the Vuelta's VIP experience. The series of events over the next 3 months promises the exciting warm up and great valuable prizes from ZYCLE, Europcar and La Vuelta.
Madrid, Spain / June 16th, 2022/ENDURANCE SPORTSWIRE/ – The 77th edition of the real La Vuelta 22 will start on Friday the 19th of August and finish on Sunday the 11th of September, from Utrecht (the Netherlands) to Madrid, World Capital of Sports 2022. The Spanish Grand Tour in 2022 will see the participation of 23 teams: 18 World Tour Teams, 2 Pro Teams and 3 wildcards, awarded to 3 Spanish teams. 21 stages with 180 riders through 30 cities around NetherLands and Spain will bring the unforgettable action and show.
To make this cycling festival accessible to anyone around the globe, together with Unipublic, ROUVY is introducing an extended virtual concept of La Vuelta for 2022. A continuous series of community events (and unprecedented access to both real and virtual experiences) on the most exciting routes of La Vuelta will end up with the in-person grand finale for the winners of virtual races in Madrid. These events of different formats will run between June and September*. The current ones and the best of 2022 future routes of the Spanish Grand Tour will be continuously released here.
Cyclists and fans of all fitness levels are invited to ride with the pros from the Equipo Kern Pharma and SCOTT CALA BANDIDA in a series of non-demanding group rides where all riders are kept together automatically. There are multiple practical reasons to ride indoors even in the summer: convenience, safety, hot weather or training plan. However, the main one is what makes ROUVY unique – ability to travel virtually around places you can only dream of visiting! Just ride in some of the most impressive places of Spain in 1:1 ROUVY's precise and fun immersive augmented reality! Feel the heat of Spain from your cool home and race virtually to be like a pro!
'LA VUELTA VIRTUAL' CHALLENGE
The warm up for the celebration of the Spanish Grand Tour on ROUVY starts on June 16th with a 2-week 'Flat' Challenge. Flat doesn't mean easy; flat means fast, tactical and fun! This Challenge teleports you to the beautiful Spanish coastline and gives an idea what Spain and an Individual Time-Trial stage looks and feels like in a grand tour.
Finishing the challenge equals a chance at winning VIP passes for the La Vuelta 2022. VIP Tickets enable you to go 'behind the scenes' of one of the La Vuelta stages to watch the race from the mechanic's car or even from a helicopter!
Additionally, there is a chance to win one ZYCLE smart trainer in a random draw for every challenge finisher!
Registration for the Challenge is here.
'LA VUELTA VIRTUAL' WARM UP RACING WEEKEND #1
June 22 | La Vuelta 2020 | Stage 10 – Comillas | Group Ride #1 with Equipo Kern Pharma | 24.5 km
June 24 | La Vuelta 2021 | Stage 6 – Cullera | Race Day #1 | 20.4 km
June 25 | La Vuelta 2021 | Stage 2 – Villafruela | Race Day #2 | 30.2 km
June 26 | La Vuelta 2021 | Stage 4 – Anquela del Ducado | Race Day #3 | 35 km
With 2 different time zones (EU and USA) for every race day, the events are available with their respective starts at 9:00 and 19:00 CET. 2 VIP passes for the Group Ride with the pros are in the draw.
PARTNERS AND PRIZE RULES
Prizes are presented by ZYCLE, the smart trainer manufacturer from Spain, and also Europcar and UniPublic, the organizer behind La Vuelta.
Prize winners will be selected in the random draws; so every qualified/podium participant of the virtual tour races has a chance to win.
First three podium places from every race will get into a random draw to participate in Madrid (anti-cheating measures will be applied).
La Vuelta Virtual Grand Final
After 3 months of qualification races, the epic grand finale on the ZYCLE smart ZBike will take place as the in-person event in Madrid. Along with the qualified finalists some ex pro riders will join the battle for the crown of the virtual peloton. (Details will be announced later)
Cyclists wishing to participate in the La Vuelta series must have a smart trainer (if you don't have one, you can get one from ZYCLE at a special discount), a bike, and a device with ROUVY – a phone, tablet, computer or AppleTV, connected to the Internet. A valid ROUVY account is also required and new riders are offered an additional 14-day trial to be part of the action, for free.
Registration is free of charge and NOW OPEN HERE.
*Information and calendar on July, August and September events will be announced additionally later on.
//Press visuals are here.
###
About La Vuelta
La Vuelta is Spain's most important cycling race and one of the most important worldwide. Organised for the first time in 1935, La Vuelta has grown exponentially over its 80+ year history. Currently, the Spanish tour is a benchmark race that has expanded its borders with regards to its first editions, which took place only on Spanish soil. Today, La Vuelta is an international race that brings together the best riders in the world and that expands its prestigious victory tally by adding the world's leading cyclists to it, year after year.
About ROUVY
ROUVY is a digital racing platform that brings the experience of real-life cycling competitions to your home. ROUVY offers thousands of exciting virtual roads to join the pro peloton online or compete with friends. Overlaying augmenting avatars over the geo-synced video footage, ROUVY makes home training both realistic and fun. Cycling enthusiasts and the most demanding athletes are welcome to cycle the world from home to stay fit or get ready for the next race!
About ZYCLE
ZYCLE is a smart trainer manufacturer from Valencia (Spain). The company is on its way to revolutionizing the cycling and home training markets with its range of connected equipment. The technical expertise and R&D have allowed it to create turbo trainers and a smartbike of the highest quality.
About Europcar Mobility Group
Europcar Mobility Group is a major player in mobility markets and listed on Euronext Paris. Europcar Mobility Group's purpose is to offer attractive alternatives to vehicle ownership, in a responsible and sustainable manner. With this in mind, the Group offers a wide range of car and van rental services – be it for a few hours, a few days, a week, a month or more – with a fleet that is already "CO2 light" and equipped with the latest engines, and which will be increasingly "green" in the years to come. Europcar Mobility Group delivers its mobility solutions worldwide through an extensive network in over 140 countries (including wholly owned subsidiaries – 18 in Europe, 1 in the USA, 2 in Australia and New Zealand – completed by franchises and partners).
PRESS CONTACTS
Enquiries In English: Yuriy Ryashko, press@rouvy.com, +420 778 488 077
Enquiries in Spanish: Pablo Osorio, posorio@unipublic.es, +34 663 716 884