Kinane Events passes the baton to San Diego Running Co. with the sale of the O'Side Turkey Trot
June 23, 2023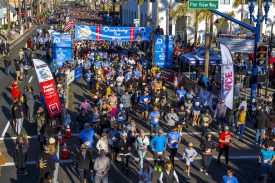 Esteemed local endurance event organizers to expand portfolio into North County
OCEANSIDE, Calif. /ENDURANCE SPORTSWIRE/ – After nearly two decades of producing the most popular Thanksgiving Day running and walking event in San Diego County, Kinane Events has announced the sale of the O'Side Turkey Trot. San Diego Running Co. has purchased the event, a move that was made public during the Oceanside City Council meeting on June 21. This marks the company's expansion into North County, where they will carry on the legacy built by award-winning race director Kathy Kinane, who co-founded the Trot in 2006.
This year's O'Side Turkey Trot will move forward on Nov. 23 as planned, with Kinane staying on as an advisor. The San Diego Running Co. team will take over all operations, management, and marketing for the event. Many of San Diego's most high-profile and popular running events are produced by San Diego Running Co., including the Corporate Dash, the San Diego Santa Run, and the Pacific Beach Half Marathon.
Since Kinane and Richard Muscio launched the event, the race has welcomed over 100,000 runners and raised nearly $500,000 for local charities. The O'Side Turkey Trot has historically welcomed a wide variety of participants, including elite athletes, multi-generational families, young children, and older adults. The event has served as a unifying influence in the community, earning support from local political leaders, businesses, and nonprofits.
"From the very beginning, our hope was that the O'Side Turkey Trot would be a healthy family tradition for O'side residents and holiday visitors. As we pass the baton to San Diego Running Co., we are confident that the trot will continue to be recognized by the running community as one of the 'Top Trots in the US' and a wonderful event for families that just want to move their feet before they eat," said Kathy Kinane, co-founder and former race director of O'Side Turkey Trot. "As we searched for the right successors, Eric and Pete and their team, had exhibited the very high level of execution and creativity necessary to provide a bright future for the Trot. I look forward to supporting their efforts – and to finally trotting in the race myself !"
"We are thrilled for the opportunity to be the new management team behind the O'side Turkey Trot and oversee such an important event for the community," said Eric Marenburg, Chief Running Officer at San Diego Running Co. "Kathy has been a trailblazer in the running and wellness space. This event is just one piece of the tremendous impact she has delivered to the sport of running. We're looking forward to working with her in this transition and leading the O'side Turkey Trot for many years to come!
The O'Side Turkey Trot will take place on Thanksgiving Day, Nov. 23, 2023, reprising its five-mile, 5k, and children's running events. To register and for more information on the O'Side Turkey Trot, visit www.osideturkeytrot.com. Follow the event on Facebook, Instagram, Twitter, and YouTube.
About Kinane Events
Kinane Events has specialized in Southern California event marketing and management for over 30 years. Established in 1991, the award-winning Kinane Events team has managed over 180 large participatory sporting events including the O'Side Turkey Trot. For more information on Kinane Events, visit www.kinaneevents.com.
About San Diego Running Co.
San Diego Running Co. is an experience company dedicated to bringing the community together through unique, memorable events that tell a story and empower people to get out and enjoy new experiences. They produced well-known events in America's Finest City and all over San Diego County, including the Corporate Dash, the San Diego Santa Run, and more. For more information, visit www.sandiegorunningco.com and follow the company on Facebook, Instagram, and YouTube.
###