Kayaking Team Breaks Record With One-Day Descent of Bridge Creek and the Stehekin River
August 10, 2022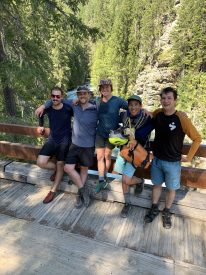 Punch Gunk Go Get It Grant winners complete traditionally multi-day whitewater kayaking excursions in just 15 hours
LOS ANGELES /ENDURANCE SPORTSWIRE/ – Nick Terry, Rob Scanlon, Non Worasilpchai, Austin Amon, and Sage Ebel successfully completed a one-day kayaking descent of North Cascades National Park's Bridge Creek, setting the fastest known time for the route. Typically completed over three days with opportunities for sleep and recovery, the team finished the famous whitewater kayaking course in a remarkable 15 hours on Saturday, July 30, 2022.
The recent heatwave in the Seattle area caused the team to jump into action sooner than expected. The kayakers had planned a scouting trip for the same weekend. As they monitored the conditions, they realized their window of opportunity would soon be closed. They headed into the national park and camped at the trailhead on Friday evening. At 4 a.m. on Saturday, they began their hike to the water entry point. The team navigated the 25-mile run down the South Fork tributary and North Fork confluence through the Stehekin River, and finally the last whitewater of Tumwater Canyon. The kayakers arrived in the town of Stehekin at 7 p.m., clocking the expedition from start to finish at 15 hours. The team shared hugs and screams of triumph, noting that even they were skeptical in the days leading up that the conditions would align for success.
The team was the inaugural recipient of the Punch Gunk Go Get It Grant, which earned them $2000 in support from Punch Gunk, an award-winning performance therapeutics company shaking up the pain relief and workout recovery industry. Punch Gunk plans to open applications for another grant in January 2023.
"From the moment we received Nick, Rob, Non, Austin, and Sage's application, we had complete faith that they would pull off this record-setting feat. Their careful planning, hard training, and daring spirit have helped them make history," said Cameron McIntyre, co-founder of Punch Gunk. "This is exactly the kind of epic adventure we hoped the Go Get It Grant would allow athletes to embark on. We couldn't be prouder to be a small part of their remarkable accomplishment."
"We are thrilled to have realized this idea. In the past few years, there's been increasing interest in executing traditional multi-day kayak trips within a single day. I appreciate this concept because it provides a medium for folks to push themselves, without just upping the difficulty and danger of the whitewater," said Terry. "It's been inspiring to see epic one-day trips on rivers like the Stikine and Middle Kings, and solving the unique logistical puzzle of Bridge Creek is our take on this genre of mission. We'd be thrilled to see others attempt it as well!"
Terry, Scanlon, Worasilpchai, Amon, and Ebel hail from Seattle, Washington where they train year-round on the most challenging and renowned sections of class V whitewater in the country, such as the Little White Salmon River, Robe Canyon of the Stillaguamish River, and Tumwater Canyon of the Wenatchee River. Each team member is a strong athlete and expert kayaker with years of experience. They also hold professional certifications in wilderness first aid and swift water rescue.
Punch Gunk was imagined, created, and is headquartered in Los Angeles, California. Well known in the mixed martial arts community, Punch Gunk's pain-relieving lotion and recovery bath bombs help athletes of all sports and abilities fight the toughest pain using natural extracts with exceptional anti-inflammatory and pain relief properties. They are FDA compliant and certified as safe by both the United States and World Anti-Doping Agencies.
To learn more about Punch Gunk, visit www.PunchGunk.com and follow the brand on Facebook, Instagram and Twitter.
ABOUT PUNCH GUNK
Based in Los Angeles, Calif., Punch Gunk is an award-winning performance therapeutics company that develops innovative approaches to pain relief and workout recovery. Both Punch Gunk pain-relieving lotion and Muscle Therapy soak synthesize the best of science and nature to provide relief naturally and effectively. Punch Gunk products are available on their website and on Amazon. To learn more about Punch Gunk, visit www.PunchGunk.com and follow the brand on Facebook, Instagram, and Twitter.
###