Kane Footwear's Revive Slip-On Earns 2022 Good Housekeeping Fitness Award
January 25, 2022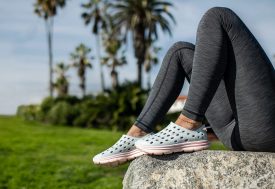 The Revive's podiatrist-backed recovery design made Kane a top contender in Good Housekeeping's workout shoes category
Westport, CT /ENDURANCE SPORTSWIRE/ – Kane Footwear, a leader in active recovery design, is thrilled to announce that their Revive slip-on has earned a 2022 Good Housekeeping Fitness Award in the Best Restorative Slip-Ons in the World-Class Workout Shoes category. The Revive has drawn attention for its podiatrist-backed recovery design and sugarcane-based materials.
The Revive launched in June 2021 and was immediately recognized for its unique, active recovery design coupled with a sustainably-minded manufacturing process. These qualities have helped Kane establish itself as a leader within the recovery footwear market. In addition, Kane emphasizes modern aesthetics in the design of the Revive to extend the slip-on's appeal as an option to be worn all day. The shoe's lightweight and comfortable design makes it an obvious choice for everyday life, and its sustainable, bio-based materials ensure it's footwear you can feel good about.
"Kane is extremely excited to be a recipient of Good Housekeeping's 2022 Fitness Award," Craig Stankevich, Kane Footwear's Chief Marketing Officer, said. "The Kane Revive integrates principles of active recovery to renew the body through stimulation, circulation and blood flow. It's the first shoe designed specifically for active recovery."
Good Housekeeping's scientists and experts award top innovators in the fitness industry once a year with their Good Housekeeping Fitness Awards. You can view the full list of Good Housekeeping Fitness Awards here:  www.goodhousekeeping.com/health-products/best-fitness-awards-2022
Press Contacts:
Maddie Jarrard, Purple Orange PR maddie@purpleorangepr.com
Craig Stankevich, Kane Footwear craig@kanefootwear.com
About Kane Footwear
Headquartered in Westport, CT, Kane is a footwear brand dedicated to the recovery of body and planet. Implementing expert driven design, biobased manufacturing, and modern aesthetics, Kane is creating active recovery footwear for mindful movers. Their flagship Revive slip-on, designed in collaboration with Board Certified foot and ankle surgeon Dr. Dan Geller, is built with eco-based materials and an active recovery design that promotes healing. John Gagliardi, Kane's founder and CEO, spent over two years to research materials, design and develop the Revive. You can learn more at www.kanefootwear.com.
###
Maddie Jarrard
Purple Orange PR
615.686.3198