Jesper Svensson and Antony Costes to go head-to-head at Challenge Vansbro
June 28, 2023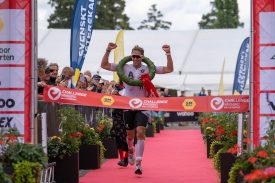 In beautiful Sweden, Challenge Vansbro will take place this Saturday. In the men's race, Frenchman Antony Costes and defending champion Jesper Svensson (SWE) appear to be the biggest favourites for the overall victory, while in the women's race, most eyes will likely be on Switzerland's Melanie Baumann.
/ENDURANCE SPORTSWIRE/ – Costes could use a win after failing to defend his title at Challenge Geraardsbergen earlier this month. At Challenge Vansbro, the Frenchman hopes to forget that negative feeling and for that reason alone he will be one hundred percent committed – or maybe even extra – to take home the win. That will certainly not be easy, because with Jesper Svensson, Matthew Trautman, Kristian Grue and Robert Kallin there are a number of world-class athletes at the start, all eager to prove themselves.
Kallin will enjoy home-field advantage this Saturday and so will be extra keen on a victory. This goes perhaps even more so for Svensson, who not only enjoys the home advantage like Kallin, but will also be wanting to successfully defend his title – it promises to be an interesting race between the two Swedes.
In the women's race, Melanie Baumann appears to be the top seed. The Swiss will face competition from, among others, Sweden's Jenny Nilsson and Anne Bergsten, Denmark's Shiva Leisner and France's Justine Guerard.
Challenge Vansbro will take place on Saturday 1 July with race start at 11:00am CEST. Follow live updates and timing at www.challenge-family.live.
-ends-