IZIP Introduces New Commuting, Cruising and Adventure Bikes for Every Kind of eBike Riding
August 12, 2020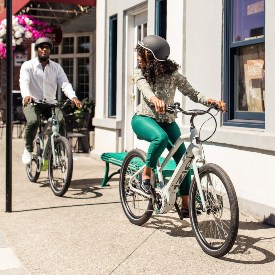 KENT, Wash. ( August 12, 2020)— With 15 years of experience designing electric bikes , IZIP introduces five new eBikes into its Commuting, Cruising and Adventure collections for Fall 2020. With a focus on power and efficiency, the new IZIP eBikes use top of the line components including BOSCH batteries, Shimano shifters and Tektro brakes.
"As the eBike market expands exponentially, so are advancements in technology, innovation and design," said Larry Pizzi, Chief Commercial Officer of Alta Cycling Groups. "Consumers are seeking diverse offerings to suit their own unique preferences, and IZIP is at the helm of versatility – both in tech and price point. The newest bikes were designed to serve a range of riders – from the everyday commuter to the multi-season driver. The Path+, Zuma Luxe and Sumo bikes will truly round out IZIP's premiere offerings in the rapidly growing eBike space."
The new Path+ Step Thru and Path+ Step Over take IZIP's commuting bikes to the next level. With a powerful and dependable Bosch Active Line center motor and a 400WH PowerPack battery, riders will enjoy a comfortable and power-filled ride. This new class 1 eBike has a top pedal assist speed of 20 mph and 30-50 miles of travel per charge. The tektro mechanical disc brakes provide solid stopping power. The 700c wheels provide rolling efficiency while 40c tires add extra comfort on any surface. The Shimano Altus 7spd shifting with optical gearbox provides riders visual confirma-tion of gear shifting. $2,400 MSRP.
IZIP reimagines its cruising collection with the new Zuma Luxe Step Thru and Zuma Luxe Step Over. An elevated version of the classic Zuma, the Zuma Luxe encompasses sophisticated styling and stunning looks that were inspired by the SoCal lifestyle found at world-famous Zuma Beach. The extra long-range and powerful Bosch Active Line Plus 250W motor and 500Wh battery provides worry-free riding and a low center of gravity for enhanced stability. Equipped with Tektro hydraulic disc brakes, Shimano Acera 8spd shifting with optical gearbox and a wide range cassette allowing riders to go quickly uphill, downhill and anywhere across town. Available in a step thru and step over version. $2,750 MSRP.
Rounding out the new bikes in the adventure category is the new Sumo electric fat bike, which was made for plowing through snow in the winter or cruising down the sandy beach in the summer. The Bosch Active Line Plus mid-motor packs best-in-class power for long offroad adventures. Equipped with oversized 4-inch tires to bowl over soft surfaces and technical terrain, a Shimano drivetrain and Tektro M735 disc brakes offer great power and modulation with 4-piston front caliper and 2-piston rear. The fully formed aluminum alloy frame and fork have plenty of cargo mounts to carry heavy loads. For year round eBike exploring, the new Sumo will take riders on the trails less traveled. $3,000 MSRP.
Also this fall, IZIP announces a new partnership with Seattle's Cascade Bicycle Club to support efforts to create new safe ways to commute from West Seattle. Debuting later in August, IZIP will roll out a digital, interactive map for riders to set a path for their commute.
To see IZIP's full collection of eBikes and stay up to date with the latest news, please visit www.izipelectric.com or follow on Instagram, Facebook and Twitter.
 About IZIP
Founded in Southern California and inspired by sunny weather and laid back cool, IZIP eBikes come in zesty colors and stylish graphics. Swap the car commute for a bike, explore endless miles of unknown trails, or spend the weekend cruising the coast in comfort! Our eBikes have fully integrated electronics and premium drive systems from Bosch, Brose, Shimano and TranzX. With IZIP you have a winning combo: great looks paired with quality, reliability and value. With more than 15 years of experience in the ebike industry, IZIP is now a veteran and a leader in eBike technology. Now part of Alta Cycling Group, IZIP is supported by a network of authorized dealers and backed by the Electric Bike Competence Center of North America. For additional information, please visit: www.izipelectric.com.