IZIP Bikes Celebrates 15 Years of Innovation and Good Vibes
July 8, 2021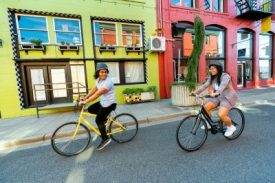 Advocacy, innovation and a love for cycling have always been at the center of IZIP's journey
KENT, Wash. (July 8, 2021) — IZIP Bikes, a long-standing leader in the electric bike industry, celebrates its 15 year anniversary this summer. Founded by electric car pioneer Malcolm Currie, the company's origins are rooted in the innovative technology of the EV1 automobile—the world's first mass-produced electric car.
Today IZIP continues to be inspired by the laidback Southern California lifestyle, with bikes that are built for the fun chasers, the farmer's market goers and the early morning surf seekers. Since its inception, IZIP has been on the forefront of ebike innovation along with growing the momentum behind ebikes. To honor this 15-anniversary milestone, IZIP debuts a new brand video that exemplifies the adventure and excitement cycling can bring to everyday life. You can watch the video here.
"Electric bikes and all the incredible opportunities they afford have always been near and dear to my heart," explained Chief Commercial Officer, Larry Pizzi. "When I joined the IZIP team in 2002, I realized how fun, liberating and practical ebikes could be both as an environmentally-friendly transportation option and as a widely accessible form of cycling. Taking notes from Dr. Currie, we have continued to advocate for ebikes and modernized regulations by working with policy groups state to state so that the ebike market can continue to flourish. We're proud to be a part of the ebike community, and can't wait to see what the next 15 years looks like for IZIP."
Building on its roots in ebikes, IZIP is expanding its collection with the addition of new acoustic (non-electric) bikes to its line this summer. With the same stylish comfort, durability and positive vibes of the ebikes before, the Alki 1 and 2 and Zest acoustic bikes add fun and continued affordability to the brand.
Named after a local beach in the Seattle area, the Alki 1 ($600) is focused on function and delivers the best of both worlds — a comfortable upright riding position plus narrower tires and larger rims for efficient, longer distance city riding and commuting. With step over and step thru options, this bike features a rack- and fender-ready aluminum frame and fork which makes it lightweight yet prepared to haul gear. The Shimano EZ Fire Plus 7-speed trigger shifters offer 21 gears, and the comfort saddle, no slip pedals and comfort grips will keep the rider's contact points with the bike comfy and happy. Distance, durability, comfort, quality, and great value all come together in the Alki 1.
The Alki 2 ($685) offers an upright riding position with narrower tires and larger rims for comfortable rides around town or daily commuting. The rack and fender-ready aluminum frame and fork is lightweight and ready to carry gear. It features a Shimano EZ Fire Plus 8-speed trigger shifter which offers 24 gears for efficient riding. The Alki 2 also features soft comfort saddle, no slip pedals and comfort grips that make for a great ride every time.
When it comes to riding bikes, the IZIP Zest ($700) is as comfy as it gets and offers the traditional look of a double-diamond bike frame. Whether cruising the boardwalk, the campground or the bike path, this comfort bike is the definition of easy riding. The Zest – offered in step over and step thru versions – puts the rider in an upright yet laid-back position for maximum comfort on the bike. It features large 27.5 x 1.95 tires that allow riders to roll over bumps with ease. Pedals with no-slip grip add to the all-day comfort, while fun graphics and reflective details add a refined look.
To see IZIP's full collection of ebikes and stay up to date with the latest news, please visit www.izipbikes.com or follow on Instagram, Facebook and Twitter.
About IZIP
Founded in Southern California and inspired by sunny weather and laid back cool, IZIP Bikes come in zesty colors and stylish graphics. Swap the car commute for a bike, explore endless miles of unknown trails, or spend the weekend cruising the coast in comfort! Our ebikes have fully integrated electronics and premium drive systems from Bosch, Shimano and TranzX. With IZIP you have a winning combo: great looks paired with quality, reliability and value. With more than 15 years of experience in the ebike industry, IZIP is now a veteran and a leader in ebike technology. Now part of Alta Cycling Group, IZIP is supported by a network of authorized dealers and backed by the Electric Bike Competence Center of North America. For additional information, please visit: www.izipbikes.com
###
Media Contact:
Marisa Dobrot
Verde Brand Communications
marisa@verdepr.com