iRunFar Announces New Editor-in-Chief
June 15, 2023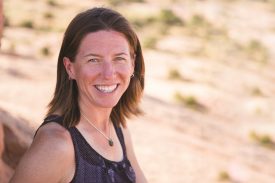 Meghan Hicks to grow iRunFar via multiple new content and audience initiatives.
June 15, 2023 | Los Angeles, California/ENDURANCE SPORTSWIRE/ – AllGear Digital's running-focused media site, iRunFar, announces the promotion of Meghan Hicks to Editor-in-Chief.
Hicks, who has served as Managing Editor of iRunFar since 2013, will succeed founder Bryon Powell. Powell launched iRunFar in 2007 and will continue to serve the site in the role of Founding Editor.
Today, iRunFar has millions of readers and is a leading voice in the long-distance running world. The site covers topics from elite ultramarathons to shoe reviews and training strategies for distance runners.
Hicks is based in Colorado and Utah. As a journalist and editor, she is widely recognized as a top authority in the sport. An athlete herself, Hicks is an accomplished ultramarathoner, notably finishing in third-place at the prestigious Hardrock 100 race in 2021. She brings deep experience, connections, and a passion for the sport to iRunFar.
Sarah Brady, iRunFar's current Editor, will be promoted to Managing Editor.
"I truly believe that iRunFar has only started its journey," Powell said. "There are so many stories and so much information still to be shared."
Powell continued, "It will be a treat to see where Meghan Hicks, Sarah Brady, and others take iRunFar."
Hicks is charged with growing iRunFar via multiple new content and audience initiatives.
"It's a privilege to be a part of iRunFar's next steps and to have the backing of Bryon Powell and the AllGear team in doing so," Hicks said. "It's also a privilege to continue my professional career in service to the trail running and ultrarunning community, which has given me so much."
ABOUT ALLGEAR DIGITAL: AllGear Digital owns and operates best-in-class media brands that fuel readers' passions. Based in Los Angeles, the company was founded in 2018 and runs a portfolio of digital publications and media brands.
Photo credit: Human Kinetics/Kirsten Kortebein