InsideTracker Pro Delivers Data-Driven Coaching Capabilities to 345 Qualified Professional Partners in 2021
December 20, 2021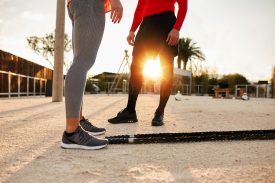 Road Runners Club of America, Purple Patch, OPEX Fitness lead roster of organizations adding cutting edge blood, DNA, fitness tracker insights to client service offerings
CAMBRIDGE, Mass.— Dec. 20, 2021/ENDURANCE SPORTSWIRE/ – InsideTracker, the leading truly personalized performance and nutrition system, added 345 professional partners to its InsideTracker Pro program since launch in March 2021, giving turnkey access to science-backed recommendations based on blood, DNA and fitness tracker data to thousands of strength and endurance athlete clients.
In addition to renowned coaching organizations such as Road Runners Club of America, OPEX Fitness, Purple Patch Fitness, the United Endurance Sports Coaching Academy and Team RunRun, InsideTracker Pro also partnered with hundreds of independent coaches and nutritionists.
"Our vision at OPEX fitness is to see every individual achieving their ideal version of fitness, and we believe that an ideal version of fitness must be personalized," said Carl Hardwick, CEO, OPEX Fitness. "Thanks to our partnership with InsideTracker, coaches and clients can look inside to see what's actually going on under the hood and in the blood, not just through physical assessment."
"The response to the InsideTracker Pro program from both coaches and clients has been phenomenal," said Royi Metser, director of business development, InsideTracker. "We're honored to be a partner in delivering a toolbox of leading-edge, science-backed measures and recommendations that help clients optimize performance and do what they love for as long as possible."
The InsideTracker Pro program allows coaches to grow additional revenue streams with in-demand service offerings and an exclusive continuing education webinar series. In 2021, it welcomed experts including Bob Seebohar to speak on applying blood biometric testing to his Nutrition Periodization and Metabolic Efficiency Training approaches and Kyla Channell of Nutritional Revolution to speak on Sex Difference in Sport: Fueling Female Endurance Athletes.  
Since launch, the InsideTracker Pro program welcomed an ever-increasing number of new coaches and partners each month, with 100 percent growth month-over-month between October and November 2021.
Founded in 2009 by top scientists from acclaimed universities in the fields of aging, genetics and biology, InsideTracker is a truly personalized nutrition and performance system. InsideTracker's mission is to help people add years to their lives and life to their years by optimizing their bodies from the inside out. By analyzing the body's data from blood, DNA and fitness trackers, InsideTracker gives a crystal clear picture of what's going on inside, along with a science-backed action plan for improving your health and becoming your best self. Read our peer-reviewed papers in Scientific Reports and Current Developments in Nutrition.