Innovative Sport Surfacing Announces New Locations in Texas
September 14, 2023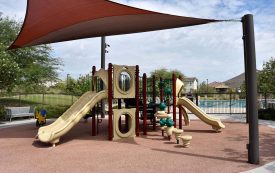 The sports flooring franchise is now in Texas and actively accepting new applicants nationwide
Houston, TX /ENDURANCE SPORTSWIRE/ – Up-and-coming sports flooring franchise Innovative Sport Surfacing has just announced new active territories throughout Texas. The newest agreement was completed with Don Pearcy who now owns 15 territories throughout the state.
"This is a monumental deal for our company as we seek to gain ground throughout the country," stated Chris Rossi, Owner of Innovative Sport Surfacing. "Don is one of the most qualified entrepreneurs that I know and brings an excellent track record of sales and decades of knowledge to our brand. I look forward to growing Innovative Sport Surfacing alongside him."
Pearcy hails from an in-depth background in sales, with over 28 years in medical sales and a lifetime of customer service-oriented roles.
"What attracted me to Innovative Sport Surfacing was that Chris has set up a one-stop, turn key operation with 25 installation crews throughout the country. He does it all," stated Peary. "I feel so blessed being with Innovative Sport Surfacing and working with Chris and his staff. Chris runs things the right way."
The latest territory deal is one of two for the rapidly expanding sports and recreation franchise. The company also closed a deal with Ohio covering five territories.
Innovative Sport Surfacing is a unique opportunity in the franchise marketplace. The company is one of few that specializes in poured-in-place rubber, artificial grass installation, bonded rubber mulch, sports flooring, and more. According to Director of Franchise Sales Alan George, the company is applicable in a range of markets thanks to its wide customer base, including institutions, recreational departments, fitness businesses, school systems, and other commercial entities.
"Our franchise partners will be working with several different types of clients in a niche with little competition, all with our ongoing support to back them," stated George. "This is a fantastic opportunity that they aren't going to see anywhere else, and we give them an extensive list of tools and resources, including our vendor connections, our CRM software, assistance with obtaining grants, and training. This is an industry that has seen billions this year and will continue to grow."
As a matter of fact, the Sports Flooring Market is currently valued at $2.75 billion and is projected to reach $3.80 billion by 2033, according to stats shared by the research firm, Fact.MR.
"Obtaining these territories in Texas and connecting with Don to lead Innovative Sport Surfacing within these areas and communities is a huge milestone for our brand and will make a big difference in the lives of our potential clients," stated Rossi. "I look forward to fulfilling the need for quality surfacing throughout Texas and in many more communities to come."
To learn more about Innovative Sport Surfacing and its franchise opportunity, visit www.innovativesportsurfacing.com or email Alan George at alan.george@fmsfranchise.com
###
ABOUT Innovative Sport Surfacing
With 90+ years of combined experience, Innovative Sport Surfacing has provided residential and commercial customers with high-quality sport flooring surfaces and other turnkey surfacing solutions. The company currently has locations in Texas and Ohio and serves customers nationwide. To get connected with Innovative Sport Surfacing, visit www.innovativesportsurfacing.com or visit www.innovativesportsurfacing.com/about/franchising.
Media Contact
Alan George
Director of Franchise Development
978-886-7908