INFINIT Nutrition announces its expansion to the European market
September 1, 2022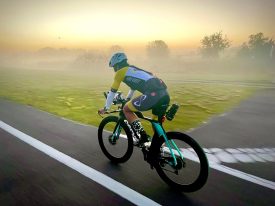 Prague, Czech Republic, September 01, 2022 /ENDURANCE SPORTSWIRE/ – Started in 2003, INFINIT was one of the first companies to establish themselves in the now rapidly growing personalized nutrition space. Their proprietary Osmo-Fit technology gives consumers the ability to create customized hydration and protein ready-to-mix nutritional drinks.
After its 18 successful years' operating on the US market, with expansion to Canada and Australia, INFINIT brand is finally expanding to the European continent with headquarters in Prague, Czech Republic. "It has been a long journey to bring the INFINIT brand to Europe, however we are very excited to be able to provide INFINIT's products to the European athletes, and we cannot wait for them to try these products out," said INFINIT Europe CEO Jan Pokorny.
INFINIT's expansion to the Europe comes in hand with company's launch of new website, which happened in the start of this year and marks the growth of the company to global perspective. "We are now able to support our athletes all around the world and produce the INFINIT products in their local environment with clean, natural and highest quality ingredients," said CEO Michael Folan.
With the production facility located in Central Europe, INFINIT products will now be available to the vast majority of athletes throughout the globe. Having the opportunity to handcraft the INFINIT performance products in their local environment gives INFINIT the chance to source local high-quality ingredients and provide the athletes with a quick turnaround of the INFINIT fuel, whenever and wherever needed.
All INFINIT Nutrition formulas are made with all-natural ingredients and developed with the company's proprietary OSMO-FIT system. INFINIT products are designed to be all-in-one, isotonic, and easy to digest, even in the most extreme conditions. Simplicity is a key value for the INFINIT brand, which believes sport nutrition does not have to be complicated. INFINIT performance products provide enough calories and electrolytes to stay fueled and hydrated, while being easy on the gut and tasting great. Eliminating the need for bars, gels, salt pills or even food.
INFINIT Europe is firstly introducing its Preset formulas, which includes pre-workout fuels, all-in-one formulas for high-intensity efforts, together with endurance fuel options. Athletes will also have the opportunity to experience the recovery formulas and performance coffee, all available on the newly developed website: https://www.infinitnutrition.eu . In the upcoming months, European athletes will have the chance to customize their hydration and protein powder to their specifications – calories, carbs, protein type and flavor — with the option to add an assortment of various nutritional "boosts" through the CUSTOM platform.
INFINIT Europe will be now heading to various IRONMAN races throughout the Europe to get to their athletes as close as possible. INFINIT will be present at the IRONMAN races in Austria, Sweden, Germany, Poland and heading later throughout the year to Cervia, Italy.
Visit https://www.infinitnutrition.eu for further information.