iFIT-Powered NordicTrack Commercial 1750 Treadmill Named "Best Treadmill" by The New York Times' Wirecutter
January 25, 2022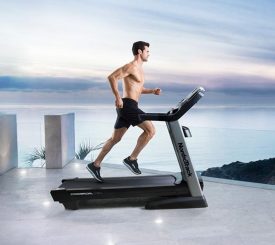 (Logan, UT) – January 25, 2022 /ENDURANCE SPORTSWIRE/ – NordicTrack's Commercial 1750 Treadmill with iFIT interactive fitness technology has been named "Best Treadmill" by The New York Times' Wirecutter, a popular review site.
The highly coveted "Best Treadmill" title was awarded following a rigorous testing and review process, including interviews with running coaches, exercise physiologists, sports psychologists and a biomechanics professor. The iFIT-powered NordicTrack Exp 7i was also highlighted as the runner-up, providing a more compact option to experience iFIT's award-winning, interactive workouts.
Wirecutter testers were impressed by the NordicTrack Commercial 1750's 10-inch color, HD touchscreen, which streams iFIT's robust and varied library of trainer-led workouts. They also praised the "smooth ride" and "extensive features," specifically noting that it is the only one of their picks to offer a decline (-3%). The Commercial 1750 also had the largest continuous-horsepower motor of their picks, as well as one of the widest and longest belts, providing a powerful and comfortable running and walking experience.
Testers lauded the NordicTrack Commercial 1750's "stable and a sturdy" feel, some exclaiming it "felt like I could go for ten miles."
"Wirecutter's endorsement is a gold standard for product reviews, and we are honored to receive such a prestigious award," said Mark Watterson, iFIT's Chief Experience Officer. "We are thrilled to have the NordicTrack Commercial 1750 and Exp 7i iFIT-powered treadmills receive the recognition and stamp of approval from the Wirecutter review team."
The NordicTrack Commercial 1750 and the NordicTrack Exp 7i retail for $1,899 and $1,099, respectively, at Nordictrack.com, and include a 30-day iFIT family membership, which supports up to five adult users.
About iFIT
iFIT® is a global fitness and well-being subscription technology company that provides unmatched fitness experiences and solutions to its growing community of over 6 million members in over 120 countries. iFIT's industry-leading brands – NordicTrack®, ProForm®, Sweat®, Freemotion®, Weider® and 29029® – are powered by the iFIT integrated health and fitness platform, which seamlessly connects the company's proprietary software, experiential content and interactive hardware. Based in Logan, Utah, with offices in Paris, Shanghai, Sydney and Leeds, the company offers immersive, adaptive, personalized workout experiences for every fitness level and interest. iFIT delivers these patented interactive experiences through an extensive offering of live and on-demand content across the industry's broadest range of connected fitness modalities. iFIT is a leader and pioneer in the health and well-being industry with more than 400 issued and pending patents.
Join the discussion @iFit, @NordicTrack and @ProForm
###
Media contacts:
Colleen Logan, clogan@ifit.com
Danielle Prager, daniellep@ifit.com
###