Hyperice Announced as Presenting Sponsor of Virtual Mind Body Tri
October 20, 2020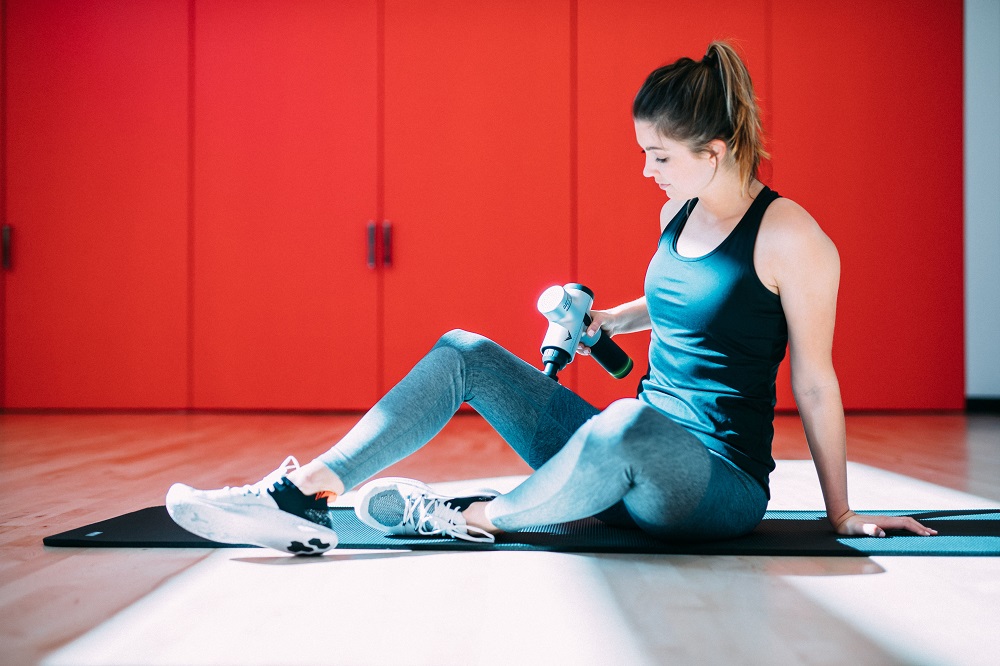 October 20, 2020 – Organizers of the Mind Body Tri presented by Hyperice, a first-of-its-kind, live virtual event designed to exercise the body and calm the mind, today announced that Hyperice, the leaders in recovery and movement enhancement technology, has signed on as the event's presenting sponsor.
With a wide range of award-winning products, Hyperice connects the innovation of technology to the art of movement. Its products combine science and physiology to support and advance the human condition.
Unlike a traditional triathlon, The Mind Body Tri presented by Hyperice consists of a 45 minute live online yoga class, a 5K run (or walk), followed by a 15 minute guided meditation. At the end event, which takes place on Saturday, October 24, the Mind Body Tri presented Hyperice will award two lucky participants the Bluetooth Hypervolt, one of Hyperice's state-of-the-art percussion massage devices, which now connects to the new Hyperice app and allows the HyperSmart technology do the recovery for you.
Named Best Recovery Tool by Men's Health Fitness Awards, Hypervolt is a portable massage therapy device that benefits all consumers wanting to move and feel better. The hand-held device weighs only 2.5 pounds and features a powerful high-torque motor with Hyperice's Quiet Glide Technology, three speed settings, a rechargeable lithium-ion battery and four interchangeable head attachments.
"We want participants of the Mind Body Tri to walk away feeling healthy, happy and invigorated, exactly the same feeling you experience after using Hyperice's world class massage products, said Mark Walter, owner of Sun Multisport Events and one of the organizers of the Mind Body Tri. "We couldn't ask for a better presenting sponsor to kick off our inaugural event."
'The Mind Body Tri is exactly the type of unique, forward thinking event Hyperice likes to align itself with, and we are excited to be able to give away two Hypervolts to its participants," said Jessica Miller, Director, Athlete Relations & Events for Hyperice. "We are committed to giving everyday people access to the same tools and technology used by professional and elite athletes."
The Mind Body Tri presented by Hyperice will take place on October 24, 2020 at 10:00 a.m. ET. Registration is now open at www.mindbodytri.com. The price is $45 through October 18 and increases to $50 after October 18. Join the conversation on Facebook, Instagram and through the hashtag #mindbodytri.
About Mind Body Tri
The Mind Body Tri was inspired by a group of successful race directors and colleagues looking for a way to come together to support one another and others by launching a unique, non-competitive, virtual fitness event designed to increase well-being and happiness. Organizers include Bruce Dunn, All Sports Productions; Joe Fleenor, Above The Fold Events & Sport Promotions; Rachel Martin, Forward Motion Events; Eva Solomon, Epic Races; Mark Walter, Sun Multisport Events and Tina Wilmott, Endurance Sportswire. www.mindbodytri.com
About Hyperice
Hyperice is an Inc. 500 global recovery and movement enhancement technology company specializing in vibration, percussion, compression and thermal technology. Hyperice's technology is used by the world's most elite athletes in professional and collegiate training rooms, as well as rehabilitation facilities and fitness facilities globally. Hyperice has applied its technology and know-how into industries such as fitness, esports, healthcare, massage, and workplace wellness. In March 2020, Hyperice acquired NormaTec, innovators of cutting-edge pneumatic compression systems, to deliver world-class performance and wellness solutions. For more information, visit www.hyperice.com.