Humango Announces Partnership with Triathlete and Coach Matt Hanson
August 21, 2023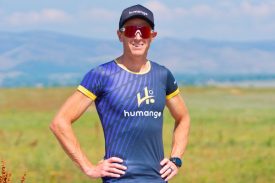 August 21, 2023, (Boulder, CO) /ENDURANCE SPORTSWIRE/ – Humango, an AI-powered digital coaching platform, has announced its partnership with professional triathlete, coach, and six-time Ironman champion, Matt Hanson. This sponsorship furthers the company's commitment to improving athletic performance and motivation through personalized training plans.
Hanson's coaching business, Matt Hanson Racing, provides athletes with customized training for an affordable price. Custom coaching from Hanson and his team of assistant coaches includes weekly training plans, race strategies, nutrition and pacing strategies, and regular communication.
"I'm excited to begin this partnership with Humango. I am looking forward to using the experience I've gained as an athlete, coach, and through my formal education to help continue the development of Humango," said Hanson. "The addition of Humango-powered plans as an option to MHRacing will increase the accessibility of training plans and help us serve as many athletes as possible."
Hanson's career started as a Professor of Exercise Science, which elevated his game as both athlete and coach to another level and set him up to be an ideal ambassador for Humango. He started his coaching career in 2013, inspired by a desire to help other triathletes reach their goals. In addition to triathlon coaching, Hanson works with single-sport athletes, including runners, swimmers, and cyclists. He has claimed 11 professional wins since beginning his professional career in 2014, four of them garnering Ironman North American Championship titles.
"We are thrilled to partner with a triathlete of Matt's caliber," said Gretell Otano, Chief Growth Officer of Humango. "His dedication to excellence as an athlete, coach, and former professor perfectly aligns with Humango's mission to empower athletes through cutting-edge training technology. Together, we're redefining what's possible in the world of triathlons and endurance sports overall."
The Humango mobile coaching app equips athletes to train more efficiently and get more out of each session. The app's AI technology analyzes athletes' data to optimize their long-term potential and provide training plans that adapt to reflect their progress.
Humango provides the most personalized training experience by blending AI technology and human insight. Additionally, it gives athletes the opportunity to create community and train alongside other athletes, all while keeping their goals in front of them and their personal training on track.
About Humango
Humango has revolutionized training through a digital coaching platform. Their innovative technology was designed for athletes looking to optimize their training through personalized training plans. The company uses AI technology with a human touch to provide dynamic training plans that help athletes reach their best athletic selves.