How Bike Club's decentralized cycling community changes everything
March 2, 2022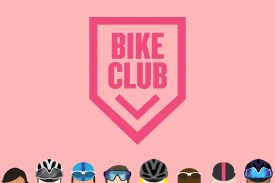 Free access to brands, athletes, events, and riders creates unprecedented opportunity for the cycling & outdoor industries.
/ENDURANCE SPORTSWIRE/ – Originally conceived as an NFT project, Bike Club has quickly grown into something much bigger. As the world's first decentralized cycling club and community that is free and open to everyone, the implications for the industry are massive.
"Traditionally, bike clubs provided a foundational structure and grassroots development for riders and enthusiasts young and old," explains Bike Club co-founder and former professional racer Paul Willerton. "They were a place to meet local riders, share wisdom, and develop strength and character. In many ways, clubs comprised the fabric of the sport.
"As more and more of our lives have moved online, our social network has expanded, and the local club's role is complemented, or perhaps even replaced, by a globally connected cycling culture. Bike Club is the first truly global, decentralized cycling club built to unite and serve this culture."
How does Bike Club work?
Using Discord as its hub, cyclists everywhere are gathering and sharing stories, photos, training tips, and gear advice in Bike Club. Combined with open access to brands, athletes, and influencers, and leveraging the founders' deep industry connections to bring those parties into the conversation, it's quickly become a movement.
"We are building a truly global cycling community, unfettered by paywalls, advertising, or gatekeepers," says Bike Club's project manager and co-founder Tyler Benedict. "Bike Club is open to everyone, welcoming riders of all types, from anywhere. No purchase necessary."
"Our mission is to create community and opportunity for cyclists everywhere, driving forward cycling advocacy, infrastructure, and opportunity."
How do you join Bike Club?
To become a Bike Club Member, all one has to do is join their Discord server. It's free, and the founders say there's no plan to ever charge anyone to join.
Members will be able to participate in contests, join real world and digital events, and more. Future plans include cycling industry job boards, hosted audio and video chats, and regional channels to help riders connect and share local intel and great spots to ride globally.
What does Bike Club mean for the cycling industry?
"We're building something that's simultaneously disruptive and collaborative," Benedict says. "Forward-thinking brands are already jumping into the conversation and engaging with Members. Lots more are watching, and we're working directly with Brand Partners to create opportunities."
/ENDURANCE SPORTSWIRE/ – More than 60 cycling industry brands have joined Bike Club as Brand Partners. Benedict noted that there's no charge to get involved, they only need commit to adding value to the community.
"It's a new concept, being able to share stories and converse directly with riders," Benedict adds. "When you're used to paying for access or relying on algorithms and gatekeepers to deliver content and hope it gets seen, it's quickly apparent what an incredible opportunity Bike Club presents for brands, athletes, and events."
Riders, too, stand to benefit. Bike Club doesn't capture any personal data, allowing Members to communicate and connect without having to give up their privacy or data. The community decides what features are added, and will help decide which cycling charities and advocacy organizations will receive Bike Club donations.
"In short," Benedict explains, "Bike Club is a community-driven platform that gives riders, brands, athletes, and industry a public platform to share their stories, knowledge, training tips, and camaraderie without subscriptions, upsells, or data mining."
Join in and learn more at BikeClub.io and join their Discord at discord.gg/jqt43UQMQG.
– 30 –
Media Contact: press@bikeclub.io
Images and assets available upon request.