Historic Day in Maryland as Four Athletes with an Intellectual Disability (ID) Finish IRONMAN 70.3 Eagleman
June 14, 2023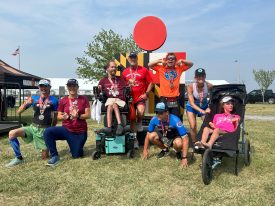 Chris Nikic, the first person with Down syndrome to complete a full-distance IRONMAN triathlon, along with three of his friends from the Special Olympics, Kennet Lefkovic, Jonathan Sady, and Marlynne Stutzman, all competed and finished IRONMAN 70.3 Eagleman
TAMPA, Fla. (June 14, 2023)/ENDURANCE SPORTSWIRE/ – History was made at this Sunday's 2023 IRONMAN® 70.3® Eagleman triathlon, as Chris Nikic (Clermont, Fla.), the first person with Down syndrome to complete a full-distance IRONMAN® triathlon, was joined by three friends from the Special Olympics, Kennet Lefkovic (Palm Coast, Fla.), Jonathan Sady (Orlando, Fla.), and Marlynne Stutzman (Tampa, Fla.), to become the largest contingent of athletes with an Intellectual Disability (ID) to race an IRONMAN 70.3 triathlon to date. All four athletes, racing as part of Team IRONMAN Foundation, a part of the Race For ChangeTM initiative finished the 1.2-mile swim, 56-mile bike, and 13.1-mile half marathon within time limits, marking the day as both a historic feat and another reminder that Anything Is Possible® (Kennet Lefkovic – 5:42:39, Jonathan Sady – 6:15:07, Marlynne Stutzman – 6:17:59, and Chris Nikic – 8:01:08). For Lefkovic, Sady, and Stutzman, this was their first ever attempt at an IRONMAN 70.3 triathlon.
"Sunday was an historic day for athletes competing with an intellectual disability in our PC/ID Open Division, and we are so proud of what Chris, Marlynne, Kennet, and Jonathan accomplished on race day. All they needed was an opportunity to show what they are capable of doing, and it was nothing short of amazing!" said Beth Atnip, Sr. Vice President of Global Operations for The IRONMAN Group. "It has been remarkable to work on and see this division evolve over the years with the increase of PC athletes and special teams, and now ID athletes. We are excited to see what the future holds as the number of athletes with an intellectual disability continues to grow thanks to more and more athletes like Chris, Marlynne, Kennet, and Jonathan, leading the way and showing what is possible."
Chris Nikic, Kennet Lefkovic, and Jonathan Sady are three of the original four that started the Special Olympics triathlon pilot in Florida during the Spring of 2018. Marlynne Stutzman along with many other athletes joined the Special Olympics Triathlon program after seeing Nikic make history in November of 2020 when he became the first person with Down syndrome to finish a full-distance IRONMAN triathlon, earning a Guinness World Record. Since then, Nikic has continued to be a pioneer in endurance sports racing events around the world, including the IRONMAN World Championship in Kailua-Kona, Hawai`i in 2022.
While IRONMAN has had athletes with an intellectual disability race at its events in previous years, earlier this year IRONMAN announced updates to its competition rules, including a modified PC/ID Open division which formalized inclusivity for athletes with an intellectual disability like had previously existed for Physically Challenged and Special Teams athletes.
"Five years ago, three of us, Jonathan, Kennet and I started the Special Olympics pilot for triathlon and then Marlynne joined us. We never imagined we would be doing an IRONMAN 70.3 together, but it just happened. It means that anyone can do it if they work hard and get 1% better. Thanks to IRONMAN creating an ID category, now it is so much more fun with friends because it's a three-day inclusion party and we get to do it together. The smiles on their faces are amazing," said Chris Nikic, after completing IRONMAN 70.3 Eagleman with his fellow athletes and friends.
Lefkovic shared, "I live every day with Autism, but today I finished my first IRONMAN 70.3 triathlon at Eagleman."
Sady said after finishing his race, "I live with Autism, and I've dreamed of this for years, and today I finished my first IRONMAN 70.3 triathlon."
Stutzman who also finished the Boston Marathon earlier this year shared, "My nickname is the fish because I love swimming. I live with Autism every day and I finished my first IRONMAN 70.3 event with three of my friends that also have Intellectual Disabilities."
Sunday was also a special day for two special teams that competed at IRONMAN 70.3 Eagleman. Chris Kemp who has cerebral palsy raced with Jeffrey Lampert (able-bodied athlete) as they went on to finish the event in 7:52:39. Seirra Bennett who also has cerebral palsy raced with Sarah Whelan (able-bodied athlete) and finished the event in a time of 7:32:59.
More information on the PC/ID Open category can be found here.
For more information on the IRONMAN brand and global event series, visit www.ironman.com. Media inquiries may be directed to press@ironman.com.
###
About IRONMAN DE&I Efforts
IRONMAN has and continues to provide a welcoming platform and environment for all, becoming synonymous with monumental achievement by athletes from around the world, proving that ANYTHING IS POSSIBLE®. Over IRONMAN's 40-plus year history, the brand and its series of events have worked with and celebrated athletes of all ages, abilities, and backgrounds, from all races, religions, nationalities, and sexual orientations. Since the very first years, IRONMAN has represented breaking barriers and redefining what is possible. This legacy continues as athletes and the greater IRONMAN community have utilized the platform as a vehicle to challenge and redefine society views. The very first trailblazing Special Team of Dick and Rick Hoyt racing alongside other athletes was a pinnacle moment for what was to come. Their determination and fortitude has continued with athletes like John MacLean, Jim MacLaren, David Bailey, Carlos Moleda, Jim Howley, Scott Rigsby, Sarah Reinertsen, Rudy Tolson-Garcia, Ricky James, Turia Pitt, Minda Dentler, Team Agar, the Pease Brothers, Alex Zanardi, Rajesh Durbal, Team Liza, Lauren Parker, Roderick Sewell, and most recently Chris Nikic and Sam Holness, among so many others. These athletes and their achievements through IRONMAN have established non-profits and long-standing partnerships like the Challenged Athletes Foundation, which continues to do incredible work. The vastness of the athlete community, partners, and the openness that exists with its events is what makes IRONMAN special and is core to what the brand represents. Continuing the belief and importance of inclusivity, IRONMAN is committed to the growth of its PC/ID Division, as well as programs and initiatives like Women For Tri and Race For Change while working on additional avenues to further increase diversity, equity, and inclusion.
About The IRONMAN Foundation  
The IRONMAN Foundation creates positive, tangible change in IRONMAN race communities by engaging athletes and volunteers to participate in programs that demonstrate service through sport and commitment to community. Since 2003, over $55,000,000 has been provided through IRONMAN charitable giveback programs, including the IRONMAN Foundation, to more than 10,000 local, regional, national, and global nonprofit initiatives. Through these partnerships, IRONMAN® and Rock 'n' Roll® Running Series participants are powerfully linked to the community and together help leave a positive legacy behind in race communities long after event day. For more information on IRONMAN Foundation programs, including Team IMF, Community Fund, Race For Change™, Rock This Town®, and Your Journey Your Cause®, visit www.ironmanfoundation.org.
About The IRONMAN Group
The IRONMAN Group operates a global portfolio of events that includes the IRONMAN® Triathlon Series, the IRONMAN® 70.3® Triathlon Series, 5150™ Triathlon Series, the Rock 'n' Roll® Running Series, IRONKIDS® Series, World Triathlon Championship Series, premier running events including the Standard Chartered Singapore Marathon™ and City2Surf®, UTMB® World Series trail-running events including the Canyons Endurance Runs™ by UTMB®, Tarawera Ultra by UTMB® and Ultra-Trail Australia™ by UTMB®, Epic Series™ mountain bike races including the Absa Cape Epic®, road cycling events including Haute Route®, and other multisport races. The IRONMAN Group is the largest operator of mass participation sports in the world and provides more than a million participants annually the benefits of endurance sports through the company's vast offerings. Catering to the full athlete experience, the company portfolio also includes FulGaz® virtual cycling, the most realistic indoor riding experience connected fitness application aimed at preparing athletes for real-world events. Since the inception of the iconic IRONMAN® brand and its first event in 1978, athletes have proven that ANYTHING IS POSSIBLE® by crossing finish lines around the world. Beginning as a single race, The IRONMAN Group has grown to become a global sensation with hundreds of events across 55+ countries. The IRONMAN Group is owned by Advance, a private, family-owned business. For more information, visit www.ironman.com/about-ironman-group.
About Advance 
Advance is a private, family-held business that owns and invests in companies across media, entertainment, technology, communications, education and other promising growth sectors. Our mission is to build the value of our companies over the long-term by fostering growth and innovation. Advance's portfolio includes Condé Nast, Advance Local, Stage Entertainment, The IRONMAN Group, American City Business Journals, Leaders Group, Turnitin, 1010data and Pop. Together these operating companies employ more than 17,000 people in 29 countries. Advance is also among the largest shareholders in Charter Communications, Warner Bros. Discovery and Reddit. For more information visit www.advance.com.