Heja launches in-app rewards powered by Endurance Zone
May 12, 2023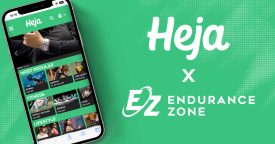 /ENDURANCE SPORTSWIRE/ – Heja, the world's leading sports team management app, has partnered with Endurance Zone, the global sports reward and engagement platform, to launch a new in-app rewards feature for Heja's users. The rewards will be available for 2.2 million Heja users across the globe.
Through this partnership, Heja users will access a wide range of rewards provided by Endurance Zone, saving them money on sports equipment, apparel, fitness tech, and more. A free version of the rewards platform will be available to all users, with premium level rewards being offered to Heja Pro and Heja Plus members.
"Endurance Zone has provided Heja with the global rewards solution we've been searching for". said Holden Metz, Head of Partnerships at Heja. "We love how easily the platform integrates with our app and the deep discounts our users can redeem. Not only rewards that align with our users' interests, but also specific to their country."
Endurance Zone's CEO, David Birch, added, "We are thrilled to collaborate with Heja, providing a seamless reward solution that delivers everything they've been looking for. We look forward to seeing Heja users benefit from our partnership."
Heja's new rewards feature is now available on both the iOS and Android versions of the app. Users can browse and redeem rewards provided by Endurance Zone immediately for free.
About Heja:
Heja is a sports team management app designed to simplify communication and organization for sports teams. The app enables coaches, managers, and players to communicate effectively and efficiently, providing tools for scheduling, attendance tracking, and more. To find out more visit heja.io
About Endurance Zone:
Endurance Zone is the global platform for sports and fitness brands to reach, reward and retain active customers. Their unique platform powers companies with rewards that are highly relevant and desirable for customers with active lifestyles. The platform seamlessly integrates into a company's customer journey through their easy to implement white-label tech. To find out more about Endurance Zone visit www.endurancezone.com