Heath Pearce Named President of For Soccer Ventures
January 20, 2022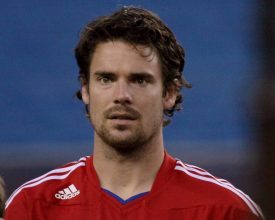 Three Time MLS All-Star, Veteran U.S. Men's National Team Player, Formally Assumes Senior Position At North America's Largest Independent Soccer Media Business
NEW YORK AND LOS ANGELES January 20, 2022 /ENDURANCE SPORTSWIRE/ – For Soccer Ventures (FSV), the largest independent soccer media and experiences company in the United States, announced that former United States Men's National Team Player and three-time Major League Soccer All-Star Heath Pearce has been named as President of the company.
"For Soccer Ventures continues to grow and evolve as a leader across all areas of soccer in the U.S.," Pearce said. "From grassroots to the highest levels of performance and engagement, FSV is positioned to provide best in-class services and solutions. We have built a unique team that understands the ever-changing soccer marketing landscape, and I look forward to leading the growth of the business with our existing partners and with the many new businesses coming on board."
In his new expanded role, Pearce will oversee all aspects of the organization including strategic direction, content, marketing, experiences, business and revenue development. Pearce has served as FSV's Chief Creative Officer since the company's founding in 2019.
"Heath has in-depth knowledge of soccer in the United States and is the ideal person to lead For Soccer Ventures forward," said Richie Graham, Owner and Founder of FSV. "Heath's vision aligns with our organizational objective to help expand the game of soccer in the United States. His leadership and cross-functional expertise will continue to position FSV as a leader in the soccer sports marketing industry."
FSV is coming off a record year of growth in 2021 that saw a near 600% increase in revenue (YOY). This growth included the acquisitions of Alianza de Futbol (the largest Hispanic soccer program in America), Footycon and The Association (first of its kind soccer meets lifestyle festivals and events series), and the launch of the Black Star Initiative. FSV also partnered with some of the biggest brands in the world: adidas, Pepsi, Lays, Verizon, CBS Sports/Paramount+, Allstate, EA Sports, Ford, Topps, Umbro, Chevron and Gatorade.
Prior to FSV, Pearce has worked on the creative, content and storytelling side of the game, and currently can be seen as a studio analyst for CBS and Paramount +. Heath Pearce is also a veteran of the US Men's National Soccer Team (2005 – 2012). Before starting his broadcast and media career, the Modesto, CA native spent 13 years as a professional soccer player. A defender controlling the backline, Pearce played in Major League Soccer from 2009 – 2014, helping FC Dallas to the MLS Cup Final in 2010. Over the course of his MLS career, he made 129 appearances and played for FC Dallas, Chivas USA, New York Red Bulls, and the Montreal Impact. During that period of five seasons, Pearce was named to the MLS-Star team three times. Pearce, who speaks German, Spanish and Portuguese, spent five years in Europe playing in the German Bundesliga and Danish Superleague before embarking on his MLS career (2005-2009). Under former U.S. Men's National Team Coach Bob Bradley, Pearce was a regular starter on the team and amassed 35 caps for the U.S. senior team.
About For Soccer Ventures
For Soccer Ventures (FSV) is a media and experiences company, leading a collaborative movement to connect brands and platforms to the diverse American soccer community through immersive storytelling, properties, activations and strategic services. Uniquely positioned within the industry, the company's mission is to advance soccer in the United States, both on and off the field.  FSV's host of capabilities and properties are aimed at putting the fan and player first. Its current properties and investments include Major League Soccer's Philadelphia Union, Alianza de Futbol, Black Star Initiative, FootyCon, The Association, JUGOtv, YSC Academy, YSC Sports, APL Leagues and Tournaments, Best Soccer Show Podcast, Orange Slices Podcast, and the FSV Soccer Influencer Network.
Contact: Joe Favorito/917 566-8345/ joefavorito2@gmail.com