Hawaiian Airlines Announced as Exclusive Airline Partner of the 2023 Los Angeles Marathon
February 24, 2023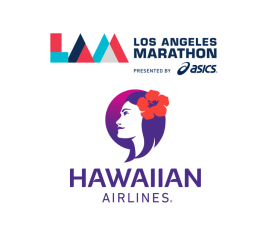 More than 20,000 runners expected for the 2023 Los Angeles Marathon presented by ASICS on Sunday, March 19
LOS ANGELES, CA / HONOLULU, HI (February 24, 2023) /ENDURANCE SPORTSWIRE/ – The McCourt Foundation (TMF) today announced Hawaiian Airlines as Exclusive Airline Partner of the 2023 Los Angeles Marathon presented by ASICS on Sunday, March 19, 2023.
"We are thrilled to partner with Hawaiian Airlines, the top leisure carrier flying to Hawai'i from Los Angeles. Hawaiian's mission to connect people with aloha touches the spirit of the Los Angeles Marathon," said John Duke, Senior Director of Partnerships, for TMF.
Hawaiian Airlines, which has been connecting Los Angeles and Hawaiʻi since 1985, will bring its signature Hawaiian hospitality to the marathon course with "The Hawaiian Mile." At the race's 25-mile mark, participants will be welcomed with live music and refreshments, while the top elite runners will be presented with a haku lei.
"We've been serving the city of Los Angeles for nearly 40 years, and it's an honor to partner with the Los Angeles Marathon to encourage runners to finish strong with a fun Hawaiian-style celebration," said Rob Sorensen, Vice President of Marketing and E-commerce at Hawaiian Airlines.
On Sunday, March 19th the Los Angeles Marathon will welcome over 20,000 runners from around the world to experience the iconic 26.2-mile Stadium-to-the-Stars course. In addition to their "Hawaiian Mile" and post-race Finish Festival activation, Hawaiian Airlines will also be activating throughout the pre-race Health & Fitness Expo on Friday, March 17th & Saturday, March 18th.
Hawaiian Airlines offers 63 weekly roundtrip flights between Hawaiʻi and Southern California, including nonstop service to Long Beach (LGB), Los Angeles (LAX) and Ontario, CA (ONT). Guests enjoy Hawaiian's award-winning hospitality, including complimentary island-inspired meals by Hawai'i's top chefs, locally crafted beers and cocktails and premium in-flight entertainment.
For more info, visit www.LAmarathon.com.
About Hawaiian Airlines
Now in its 94th year of continuous service, Hawaiian is Hawaiʻi's biggest and longest-serving airline. Hawaiian offers approximately 130 daily flights within the Hawaiian Islands, daily nonstop flights between Hawaiʻi and 15 U.S. gateway cities – more than any other airline – as well as service connecting Honolulu and American Samoa, Australia, Japan, New Zealand, South Korea and Tahiti.
Consumer surveys by Condé Nast Traveler and TripAdvisor have placed Hawaiian among the top of all domestic airlines serving Hawaiʻi. In 2022, the carrier topped Travel + Leisure's 2022 World's Best list as the No. 1 U.S. airline and was named Hawaiʻi's best employer by Forbes. Hawaiian® led all U.S. carriers in on-time performance for 18 consecutive years (2004-2021) as reported by the U.S. Department of Transportation.
The airline is committed to connecting people with aloha by offering complimentary meals for all guests on transpacific routes and the convenience of no change fees on Main Cabin and Premium Cabin seats. HawaiianMiles members also enjoy flexibility with miles that never expire. As Hawai'i's hometown airline, Hawaiian encourages guests to Travel Pono and experience the islands safely and respectfully.
Hawaiian Airlines, Inc. is a subsidiary of Hawaiian Holdings, Inc. (NASDAQ: HA). Additional information is available at HawaiianAirlines.com. Follow Hawaiian's Twitter updates (@HawaiianAir), become a fan on Facebook  (Hawaiian Airlines), and follow us on Instagram (hawaiianairlines). For career postings and updates, follow Hawaiian's LinkedIn page.
For media inquiries, please visit Hawaiian Airlines' online newsroom.
About the Los Angeles Marathon
The Los Angeles Marathon presented by ASICS is operated by The McCourt Foundation. Since 1992, The McCourt Foundation (TMF) has been an organization whose mission is to empower individuals and communities to build a healthier world and make a difference through the support of neurology research, hosting educational forums, and using its events as a platform to raise funds for charity partners. Further information about the 2023 Los Angeles Marathon presented by ASICS can be found online at LAMarathon.com and follow along on social media @LAMarathon.