GU Energy Labs Debuts Salted Lime ROCTANE Flavor to Benefit Western States Foundation
March 1, 2022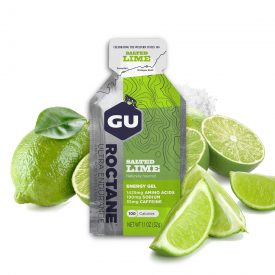 BERKELEY, CA (March 1, 2022) /ENDURANCE SPORTSWIRE/ – GU Energy Labs announces the release of a new Salted Lime ROCTANE gel flavor in celebration of the brand's renewed partnership with the historic Western States Endurance Run, the world's oldest 100-mile trail race.
GU Energy Labs traces its roots back to the 1989 edition of the race, when company founder Bill Vaughan created the first energy gel as a portable, easily digestible fuel for his daughter's run. By donating the proceeds from the gel, GU is honored to partner with the Western States Endurance Run Foundation in its support of the ultra-running community and stewardship of the trail system that makes up this iconic event.
"The newest flavor from our partners at GU Energy is a clear indication of the type of synergies we were hoping to create through our relationship with GU," notes Craig Thornley, Race Director of Western States Endurance Run. "Not only is this a product that will help improve the performance of the athletes who use it, but some of the proceeds will go toward furthering our own race mission in key areas such as trail stewardship and medical research as well. It is a win-win for both of us, but most importantly, for the runners of Western States."
The limited edition Salted Lime flavor debuts in the ROCTANE lineup of products geared toward high output athletic pursuits, as ROCTANE Energy Gels have three times more amino acids and sodium than original GU Gels, making them ideal for long, challenging, and brutally hot races like Western States. Sodium and amino acids are especially important when training or racing for multiple hours or during high-intensity conditions.
"When I take on long, hot endurance events like Western States, I need extra nutritional support with premium ingredients to achieve my athletic goals and I also want it to taste good. The new Salted Lime ROCTANE gel provides a welcome burst of refreshment when athletes crave it and need it most," explains Magda Boulet, Olympian, 2015 Western States Champion, and GU President.
The Salted Lime flavor was, in fact, the winner in a flavor contest held by GU in the runup to the 2021 Western States Endurance Run. When asked what flavor they would prefer for training and racing in the heat, athletes chose Salted Lime by a wide margin over four other candidates.
About GU Energy Labs
GU Energy Labs strives to help athletes to reach their highest potential with products that deliver the right nutrients, in the right amounts, at the right time. Developed in collaboration with Olympians and age groupers alike, the GU nutrition matrix of Hydration, Energy and Recovery products has helped countless athletes achieve their dreams since its inception in 1993. Headquartered in Berkeley, GU Energy Labs produces all of its Energy Gels onsite with just the right blend of heart and science. Recommit to becoming your best athletic self, learn more about GU products, and discover how nutrition planning can help you get there at www.guenergy.com.
About Western States Endurance Run
Western States, first run in 1974, is the world's oldest 100-mile trail race and one of the most prestigious. Each June, 369 runners from across the US and around the world embark from the start line in Olympic Valley, California, to tackle a challenging course to the coveted finish line at Placer High School in Auburn, California. Learn more at http://www.wser.org