goodr Becomes a Sunglass Partner of USA Cycling
June 13, 2023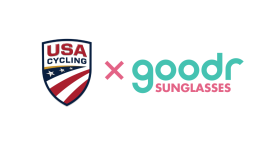 goodr joins USA Cycling as an Official Partner through 2024.
COLORADO SPRINGS, Colo. /ENDURANCE SPORTSWIRE/ – USA Cycling is proud to welcome sunglass company, goodr, as a partner through 2024. This collaboration brings together two powerhouses in their respective fields and marks an exciting chapter for both USA Cycling and goodr.
This partnership represents a perfect collaboration with goodr's commitment to creating affordable, stylish, and performance-driven eyewear and USA Cycling's pursuit of growing American cycling and achieving international success.
"Partnering with USA Cycling is a major opportunity for us to reach riders of all backgrounds across every cycling discipline, to support some amazing communities, and to come together around the joy of cycling," said goodr CEO and Co-Founder Stephen Lease. "We look forward to bringing a healthy dose of FUN to the cycling space."
The partnership will allow cycling enthusiasts to connect with the sport and the goodr brand in new and exciting ways.
"We're excited to have an innovative brand like goodr to keep our National Team, staff, and fans outfitted at the races looking their best," said Scott Usher, Chief of Corporate Development at USA Cycling.
Aggregate Sports helped broker the agreement.
For more information related to USA Cycling, contact Scott Usher at susher@usacycling.org
For more information related to goodr, contact Danielle Kent at dee@goodr.com
ABOUT GOODR (goodr.com)
We exist to give you permission to be unabashedly yourself…unless you're an asshole. Since 2015, we've made $25 Active Sunglasses for Anyone that are No Slip. No Bounce. All Polarized. All Fun. goodrs can be purchased directly at goodr.com; at our Los Angeles-based retail store, the goodr Cabana; and through leading national retailers like REI, Fleet Feet, Public Lands and more. All of our products speak to the four Fs: Fun, Fashionable, Functional and 'Ffordable, which make them perfect for running, beasting, biking, golfing, skiing, snowboarding or really anything active. goodr has received accolades from leading media outlets like Runner's World, Outside, Men's Health, Women's Health, Bicycling, and GQ, so we know we're doing something right.
ABOUT USA CYCLING (usacycling.org)
USA Cycling is the national governing body for the sport of cycling and oversees the disciplines of road, track, mountain bike, cyclocross, and BMX. USA Cycling's mission is to grow participation and engagement with the sport of bicycle racing and achieve sustained international success across all cycling disciplines. USA Cycling supports cyclists of all levels and abilities, from those just beginning in the sport to international caliber athletes. The organization identifies, develops, and selects cyclists to represent the United States in international competition through the support of youth and interscholastic programs, amateur and grassroots bike racing events, athlete development programs, and operational support for cycling clubs, racing teams, and event organizers. USA Cycling has a membership of 80,000, sanctions over 2,500 events annually, and is a member of the Union Cycliste Internationale (UCI) and United States Olympic & Paralympic Committee (USOPC).