Gnarly Nutrition Launches 'Fuel For Life Scholarship' to Provide Funding for Endurance Sport Groups
June 15, 2022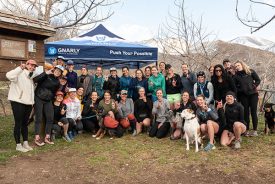 Applications for the scholarship open June 15th for running, cycling, and endurance sport groups to be awarded funding for community projects
Salt Lake City, UT (June 15, 2022) /ENDURANCE SPORTSWIRE/ – Gnarly Nutrition is excited to announce the launch of its Fuel for Life Scholarship to provide funding for endurance sports groups. If chosen as a winner, the funding will be used to help the organization create community, attend races or sport-related events, grow their team, and purchase gear, uniforms, or other sport-related attire. Endurance sports groups all over the country are encouraged to apply here. Eligible groups must meet the following criteria:
Organizations with less than 50 paying members, or less than 200 members with no membership fee
Established groups with an upcoming event or large goal
Unestablished groups hoping to launch a new initiative (must have some public support)
Groups or teams that are currently making a positive social, cultural, or environmental impact in their community
There will be two winners chosen for the Fuel for Life Scholarship: the Grand Prize and the People's Choice Prize. The Grand Prize winner will be awarded $12,000 for their team, as well as $500 of Gnarly products (including Gnarly's endurance fueling product, Fuel2O) and 50% off any additional Gnarly product for their team for 12 months. The People's Choice award will give $3,000 to a deserving team to help jumpstart community building and team initiatives.
Applications will be open from June 15th, 2022 to June 30th, 2022. Eligible applicants chosen to move past the phase 1 application round will have the opportunity to participate in subsequent phases of the application process, as outlined below:
Phase 2 Public Voting (July 12th – July 25th): each team must receive 100 or more votes from the public to move their team onto the next phase
Phase 3 Volunteering (July 25 – August 22nd): the top 80 teams will become Gnarly ambassadors. These teams will complete a series of tasks, including self-organized trail cleanups, hosting and volunteering at community outdoor events, and establishing a team mission.
Phase 4 Video Submission (August 25th – September 6th): the 10 final teams will create a video outlining who their group is, what their goals are, and how the prize would be used. A panel of outside judges, including Gnarly Nutrition athletes and partners, such as Lael Wilcox, Dylan Bowman and Kelly Halpin, will select the Grand Prize winner, and the public will vote on the People's Choice winner.
Gnarly Nutrition is excited to launch this scholarship program to help endurance sport groups expand their communities and provide opportunities for their athletes. "Through our work with other partners, we've seen how impactful a little investment and support can be. We hope these resources will help an underserved group kickstart the change they have imagined for their members and communities," said Gnarly Nutrition CEO Eli Kerr, "We're excited to see all of the great ideas and goals that deserve attention not just from us, but from the greater public." To apply please visit Gnarly's Grant application page.
About Gnarly Nutrition
Born in Utah's Wasatch Mountains, Gnarly Nutrition is committed to educating and inspiring athletes at all levels. Gnarly provides honest, effective and great tasting sports nutrition that is NSF Certified and NSF Certified for Sport. Gnarly's full line features science-backed products free of hormones, GMOs, proprietary blends, antibiotics, or anything artificial.
For more, visit Gnarly's website or follow along on Instagram.
Media Contact
Brianna McReynolds
Purple Orange Communications
brianna@purpleorangepr.com
307.690.8838