Giving Tuesday — Two Gifts for the Price of One
November 29, 2022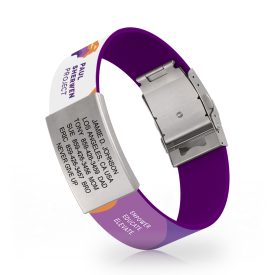 ROAD iD and the Paul Sherwen Project Team Up for the Perfect Holiday Gift
/ENDURANCE SPORTSWIRE/ – ROAD iD and the Paul Sherwen Project Team Up for the Perfect Holiday Gift, ROAD iD, the premiere line of wearable identification products for cyclists, continues its support of the Paul Sherwen Project, the foundation created to honor Tour de France commentator and former professional cyclist, the late Paul Sherwen.
This Giving Tuesday, ROAD iD is extending its successful Tour de France fundraising efforts by continuing to donate $15 for every Paul Sherwen Project (PSP) commemorative wrist ID that is sold. In effect, with the purchase of the Paul Sherwen Project Wrist ID consumers are not only giving the gift of safety to the adventurer in their life, but also giving the gift of an education to a young girl in Uganda.
So far, ROAD iD has donated $15,155 which goes directly to support the Matany Girls' Vocational School in Karamoja, Uganda whose mission is to empower young girls in the region through demand-based vocational education. The Matany Girls' Vocational School offers practical skills training to girls to increase employment and encourage entrepreneurship to promote sustainable livelihoods and dignity. Educational opportunities for young women in this remote region of Uganda are scarce and many girls must leave school after their primary years. Understanding that educating young girls lifts the whole community, MGVS's motto is "Skill and Empower a Girl."
"We are humbled by ROAD iD's continued support of the Paul Sherwen Project," said Katherine Sherwen, Paul Sherwen's wife and Vice-Chairperson of the Paul Sherwen Project. "Giving Tuesday is about doing good and making a difference and that is exactly what ROAD iD is doing by extending this promotion. Paul would be so touched by this generous act of giving."
"We're honored to be able to continue supporting such a worthwhile cause," said Edward Wimmer, Co-Founder of ROAD iD.
The prodigious goal of the Paul Sherwen Project is to raise $165,000 to construct a workshop to house a kitchen for catering & hospitality, a salon to teach hairdressing and a tailoring room. Another $25,000 must be raised for equipment. Since the campaign began $150,000 has been raised. You can visit paulsherwenproject.com to learn more and donate today or show your support by purchasing the Paul Sherwen Wrist ID, starting at $39.99.
About Road ID
ROAD iD makes wearable identification for people on the go. Their mission is to make wearing ID as common as a seatbelt, and since 1999, they've provided peace of mind to millions of active individuals, empowering them to do what they love and worry less with their info on-hand.
Should the need arise, their ID products communicate who you are, who to contact, and the medical information necessary to ensure proper care is received. Countless stories and testimonials from customers over the years are a testament to the power of wearing ID, with many customers saying they might not be alive today had it not been for their ROAD iD. For more information, visit ROADiD.com.
About the Paul Sherwen Project
The Paul Sherwen Project is a 501c-3 Corporation founded by the family and friends of the late Paul Sherwen to continue the good he was enacting in Uganda. Paul raced in the Tour de France seven times before becoming television commentary partners with Phil Liggett, where their voices became synonymous with the Tour de France. Paul called Uganda home and was passionate about investing in the people and future of the region, thus the Paul Sherwen Project is continuing his mission. For more information, visit www.paulsherwenproject.com.