GFNY takes over Kuala Lumpur on February 12, 2023
August 3, 2022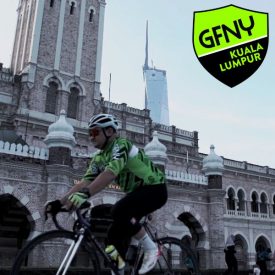 Thousands expected for the 138km race in the capital of Malaysia
/ENDURANCE SPORTSWIRE/ – GFNY Global Endurance Sports Series adds GFNY Kuala Lumpur, scheduled for February 12, 2023. Riders will get to experience a race that starts and finishes in the heart of Malaysia's metropolis. The 138 km long course will take athletes from the heart of the city, into the hilly outskirts and back to Merdeka Plaza for a total of 1577m of climbing.
"Racing and riding between the historic buildings and skyscrapers of Kuala Lumpur is going to be one of those once in a lifetime experiences that any rider needs to be part of," says GFNY CEO Uli Fluhme.
"With GFNY Bali in its third edition, GFNY Philippines returning in 2023 and a third destination announced shortly, GFNY is excited to offer Asian riders more and more local opportunities. Our goal is to be as prevalent in Asia by 2025 as GFNY is in Latin America today with its 17 races there."
Kuala Lumpur is the fastest growing city in Asia, with a multicultural population, entertainment, culture, nature, shopping and fantastic cuisine. A wide range of food and shopping options will excite and surprise GFNY riders, families and friends who get to experience everything from glitzy shopping malls and fine dining to markets and street food.
Website: kualalumpur.gfny.com
About GFNY Global Endurance Sports Series
GFNY Global Endurance Sports Series is a sports event company with three decades of experience in racing, planning and organizing events. The global endurance sports brand hosts multiple events throughout the year around the world on five continents.
Working with partners around the world to deliver a first-class experience, GFNY Global Endurance Sports Series puts their athletes first.
Cycling
20 plus events around the world. View the 2021-2022 calendar here
Riders get to BE A PRO FOR A DAY ® by competing against others, themselves and the clock in a personal endurance challenge.
Top 10% (20% at regional championships) of finishers in each age group qualify for the Racer Corral at every GFNY World event.
GFNY World Championship NYC
The 10th annual GFNY World Championship New York will be held on May 15, 2022. The race features the world's most international peloton with riders from over 90 countries. Athletes take on a challenging 100-mile route from NYC to Bear Mountain to Fort Lee to compete against each other, the clock and themselves in a personal endurance challenge.
The official GFNY website is: www.gfny.com.
Further Material for Media Use
Official GFNY Kuala Lumpur video: here
GFNY Press Images: here
GFNY Results: here
GFNY World calendar graphic: here
Previous GFNY press releases: here
Media Contact
Gran Fondo New York Inc.
Uli Fluhme, uli@gfny.com
Caroline Lindsay, caroline@gfny.com