Full House of Team Ownership For Super League Triathlon's 2023 Championship Series
July 20, 2023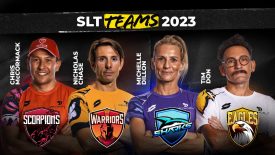 Super League Triathlon can today announce the new-look Team Owners and Managers for the 2023 Championship Series.
/ENDURANCE SPORTSWIRE/ – After two successful years, the innovative concept is continuing to grow in 2023 with four Teams featuring five male and five female athletes, a full roster of Team Owners, an enhanced scoring system and new athlete recruitment procedures.
The 2023 Teams are:
Bahrain Victorious Scorpions managed by Chris McCormack and Michael Gillian
Santara Tech Eagles managed by Tim Don
RTS Warriors managed by Nick Chase and Adam Meredith
RTP Sharks managed by Michelle Dillon and Stuart Hayes
Athlete managers have taken responsibility for recruiting their athletes with Team Rosters to be unveiled in just under two weeks. The athletes already confirmed to race the Championship Series include a raft of Olympic medallists and World Champions such as Jonny Brownlee, Georgia Taylor-Brown, Alex Yee, Kristian Blummenfelt, Cassandre Beaugrand and Hayden Wilde.
In 2023, all athlete points accumulated via the Individual and Discipline Leaderboards will count towards the Teams Leaderboard. The 2023 Championship Series boasts a total prize pool of $1.24 million, with Teams enjoying a prize pot of $300,000, which helps to ensure the development of young athletes who are in the earlier stages of their careers and not yet earning significant prize money through individual racing.
All the Teams also have a new look with a recent brand refresh as Team Owners and their managers help to drive the direction of the Series. This comes ahead of a full Super League Triathlon brand refresh which will be launched later in the year.
Super League Triathlon CEO and Co-Founder, Michael D'hulst, said: "Super League Triathlon's Teams concept has proved to be hugely popular with fans and athletes alike, bringing a new dynamic to the racing and a significant extra tactical dynamic, and the developments for 2023 are very exciting. We have four fantastic Team Owners, who are committed to developing their Teams, contributing to the overall success of Super League Triathlon and shaping the future of the sport.
"As we continue to develop the Teams concept, interest from brands is ever increasing which is a significant step to ensure that the sport and its star athletes can enjoy a commercial future in ways that have not been envisaged in the past."
The Super League Triathlon 2023 Championship Series is:
August 27: London, UK
September 3: Toulouse, France
September 30: Malibu, USA
October 21: NEOM, Saudi Arabia
Super League was born in 2017, the brainchild of Michael D'hulst, entrepreneur Leonid Boguslavsky and four-time triathlon World Champion Chris McCormack. After successful trial events, Super League held its first Championship Series in 2018. This year will be the fifth anniversary of the Series with Super League having hosted 26 Championship Series and Arena Games Triathlon events since its inception.
ENDS
About The Team Owners
RTS Warriors
RTS was founded in 2020 by Nicholas Chase and fellow pros, Jackson Laundry and Garrick Loewen. The goal of RTS was and still is, to show the "real" side of triathlon. The struggles, the glory, the pain and the love that we all feel through this sport. And to create a platform that could help support his fellow professionals in an industry that has not been kind to its top performers over the last decade.
By building a brand that has a presence in all aspects of triathlon RTS hopes to be able to create a team that can get the attention of the wider world, growing triathlon and bringing more money into the sport, enabling them to provide a living wage to their athletes.
Bahrain Victorious Scorpions
Bahrain Victorious 13 is the most successful endurance sports team on the planet. The vision of His Highness Sheikh Nasser bin Hamad al Khalifa, BV13 exists to promote a culture of health and wellness across the Gulf region and beyond. Members are selected for their unparalleled achievements, class and character, and work together as a tight team under the guidance and framework created by team manager Chris McCormack.
The model has delivered success after success since its launch in 2015, capturing every major title in the sport, and spearheading the team dynamic within the sport of triathlon. In Super League Triathlon, Bahrain Victorious features members of the broader BV13 team, alongside short course stars that uphold our winning culture and are carefully selected to support the broader focus of continued success.
RTP Sharks
RTP Global was founded on taking bold bets – and it's a philosophy we still live by today.
In the late 90s, our founder – entrepreneur and passionate triathlete Leonid Boguslavsky – used the proceeds of the sale of his tech company to co-found a new firm that would invest in other entrepreneurs doing amazingly innovative things with technology. It was a bold bet, one that saw him invest most of his personal wealth.
And it paid off.
Since 2000, RTP Global has backed over 110 founders of some of the biggest emerging tech and internet start-ups, right from their very early stages. These companies – like Datadog, DeliveryHero and Cred – went on to become global, multi-billion dollar businesses.
We are also a truly global team with full-time investing presence in New York, Bangalore, Dubai, London and Paris.
Santara Tech Eagles
Santara Technology (Tech) is the first of its kind, an incubator providing unprecedented access and insight from the worlds' top endurance athletes, coaches, and sports scientists, allowing our partners to develop unique products and market opportunities.
Founded by Olympic and 3 x world champion Kristian Blummenfelt, 3 x Ironman world champion Gustav Iden, world leading endurance coach and data scientist Olav Aleksander Bu and long-time manager, Adam Acworth; Santara Tech provides cutting edge in-field, laboratory and controlled environment product research and development.
Santara Tech also provides engaging content and activation programmes, driving brand credibility, market validation, revenue growth, awareness, and product education.
Manager bios
RTS Warriors
Nick Chase
A former member of the United States Air Force, Nick raced professionally and collected podiums in triathlon, criterium racing, XTRI and Ultra Marathons before founding the Real Triathlon Squad with a mission to improve the lives of athletes both professionally and financially. He was assistant manager of the SLT Rhinos in 2022 and now steps up to the top job with his own team.
Bahrain Victorious Scorpions
Chris McCormack
4-Time World Champion
Chris regularly features in every debate of the greatest triathletes of all time after a glittering professional racing career that saw him win the Ironman World Championship twice, as well as numerous short course titles, including the ITU World Cup Series. Since retiring from racing, Chris has forged a successful business career including founding Super League Triathlon.
RTP Sharks
Michelle Dillon
2-Time Olympian
Michelle is a former World and European champion and two-time Olympian. She ran the 10,000m in the Commonwealth Games before switching to triathlon where she secured numerous titles. She now coaches a range of athletes from Age Groupers through to elites and recently won the Age Group World Championship title.
Santara Tech Eagles
Tim Don
4-Time World Champion
Tim is a legend of triathlon. He started in short course racing and achieved huge success as a three-time Olympian and four-time ITU World Champion in triathlon and duathlon but has more recently raced in a long course where he broke the world record for an Ironman branded event.
Team Manager Quotes
RTS Warriors
Nick Chase said: "Triathlon was invented in America. It's time to take it back. Our mission is to grow world champions, not buy them. We are a genuine American team, with a shared goal. We are looking towards LA 2028 and we want to leverage SLT for the benefit of the national team. 2023 will be tough for us. We know that. But we are not scared of anyone."
Bahrain Victorious Scorpions
Chris McCormack said: "We expect nothing less than to defend all our titles in 2023. The focus is to clean sweep all the title offerings at SLT, including the male and female overall and of course the team title. We are called Bahrain Victorious for a reason, and we won't be happy with anything less than a complete defence of our place on top of SLT in 2023."
RTP Sharks
Michelle Dillion said: "British triathletes have dominated the world stage over the past decade and we need to prove there is no end to that on the horizon. I am proud to be building a British-led team pulling together both for a home race in London and the rest of the Championship Series. Heading towards the Paris Olympics it is important that we remind the world how good we are."
Santara Tech Eagles
Tim Don said: "It's time for the Eagles to get their title back. Santara Tech are backing us to get revenge on Bahrain Victorious and the team I am putting together will be the perfect blend of established stars and talent for the future. I can guarantee you we will be a proper team and we are there to win."