Fuelin Partners With Pillar Performance to Deliver Macro and Micronutrient Nutrition Guidance to Athletes
June 16, 2022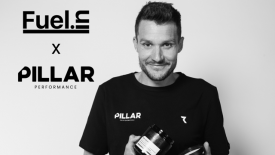 /ENDURANCE SPORTSWIRE/ – Nutrition coaching company, Fuelin, is pleased to announce its official partnership with leading sports micronutrition brand, PILLAR Performance. The partnership brings together two companies at the forefront of health and nutrition for athletes.Fuelin's nutrition coaching program provides athletes with a personalized guide to balance macronutrient intake with daily training while PILLAR provides a suite of products formulated to cover every aspect of micronutrition in relation to high performance.
Through the partnership, PILLAR products will be available for purchase directly in the Fuelin app making access to best-in-class micronutrients seamless forFuelin athletes. PILLAR's official sports dietician and acclaimed author, Pip Taylor, will utilize theFuelin app and platform to further enhance nutrition coaching for PILLAR athletes, including access toFuelin's nutrition coaching technology and educational ecosystem.
Finally, PILLAR and Fuelin will offer regular joint education sessions on athlete nutrition and micronutrition as part of the shared vision to bring trusted nutrition guidance to more athletes worldwide.
Founder and CEO of PILLAR, Damien Fitzpatrick said he was excited to be partnering with Fuelin to support their athletes in pursuing optimal performance. "The team at Fuelin are doing some wonderful things in the endurance community through both their programming and technology which we believe is hugely important for athlete development", explained Fitzpatrick. "Given the benefit the PILLAR range offers to those in long course triathlon, running, cycling and swimming, it was a great fit to work together."
Scott Tindal, performance nutrition coach and co-founder of Fuelin, stated: "Our primary concern for athletes is health, as such, we are proud to be working alongside PILLAR Performance in their quest to raise the bar in the supplement world." Tindal added: "when searching for supplements that support an athlete, the two immediate concerns are quality and active ingredient composition. With PILLAR, Fuelin knows that our athletes are receiving the highest quality supplements and formulated dosages that work."
ABOUT FUELIN
Fuelin is a nutrition coaching app and program that takes the guesswork out of daily nutrition, fueling and hydration for endurance athletes. The Fuelin app syncs with coaching platforms such as TrainingPeaks and Today's Plan to provide athletes with a personalized nutrition program based on their individualized training plan. It includes practical guidance on when, how much, and what type of nutrition to consume for performance and optimized health. The Fuelin program also teaches athletes how to train their gut, maximize carbohydrate capacity and nail an effective hydration strategy in racing.
For more information see fuelin.com
About PILLAR Performance:
PILLAR Performance is an Australian owned and made range of elite sports micronutrition products. Working with some of Australia's best dietitians and sports scientists, PILLAR has developed a range that specifically supports the rigors of high-performing athletes – covering every micronutrient they require year-round. The PILLAR range features market-first ingredients and formulations that are clinical strength and Informed Sport certified. PILLAR is the preferred choice of more than 40 professional sporting teams across Australia, while also working with elite endurance athletes including Jan Frodeno, Ellie Salthouse and Zac Stubblety-Cook.
For more information see pillarperformance.shop