Fuelin Partners with online store The Feed to Help Athletes Find the Right Fuel for their Training and Tastebuds
November 10, 2022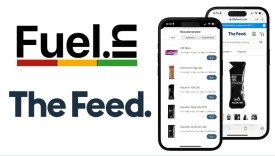 San Francisco, CA /ENDURANCE SPORTSWIRE/ – Fuelin and The Feed today announced a partnership that makes it easy for Fuelin athletes to purchase fueling products directly from The Feed via the Fuelin nutrition coaching app. Athletes will also receive annual store credit to The Feed as well as a custom Fuelin x The Feed water bottle.
Fuelin's world-class nutrition coaches have worked with professional and amateur athletes around the world to dial in their nutrition and fueling to optimize their performance and health. Not only does the Fuelin program offer guidance around how to fuel and hydrate during workouts, it also includes recommendations on what to eat for each meal and snack throughout the day.
Fuelin recommends that clients trial a wide variety of products to identify what works best for their training and performance needs as well as their taste buds. This process aligns perfectly with The Feed's single serve shopping strategy that allows customers to mix and match flavors and products to suit an athlete's training and personal preferences.
"We are thrilled to partner with Fuelin," said Matt Johnson, the Founder of The Feed, "and power the first fueling recommendation and coaching app with the ease of one-click ordering for every sports nutrition brand on the market, including Maurten, Clif Bar, Endurance Tap, Neverscond, Science in Sport, and over 100 more."
Co-founder and CEO of Fuelin, Jonathan Lee, explained: "The Feed is an incredible resource offering our athletes seamless access to a wide range of products. It's great that they can buy almost anything as a single item without having to buy an entire box, only to find the product doesn't work for them."
ABOUT FUELIN
Fuelin is a training based nutrition coaching app and program that takes the guesswork out of daily nutrition, fueling and hydration for endurance athletes. Using a simple traffic light system, the Fuelin app provides athletes with a personalized nutrition program based on their individualized training plan, including practical guidance on when, how much, and what type of nutrition to consume for optimized performance and health.
Fuelin was co-founded by Scott Tindal, who previously worked across professional sports teams such as the Toronto Maple Leafs, Team Oracle USA (Professional Sailing) and is on the digital advisory board of IRONMAN as a performance nutrition expert. The mission of Fuelin is to make personalized nutrition and fueling recommendations accessible to all endurance athletes.
For more information visit fuelin.com
ABOUT THE FEED
The Feed is the largest online sports nutrition company for endurance athletes. The Feed's online marketplace offers over 250 top brands like Maurten, Clif Bar, Honey Stinger, and USWE and gives users the ability to shop for "single servings" on most products.
The Feed was started by Matt Johnson, who previously was President of Slipstream Sports, operator of the World Tour Teams Garmin, Cannondale, and now the EF Pro Cycling Team. Matt's mission was to bring the inside fueling secrets of the World Tour to every cyclist, runner, and triathlete.
For more information visit The Feed.
Media contact: Jordan Blanco
Email: media@fuelin.com
Phone: (415) 465-3665