Fuelin Announces Partnership with Myprocoach to Deliver Personalized Nutrition Coaching to More Endurance Athletes
October 4, 2023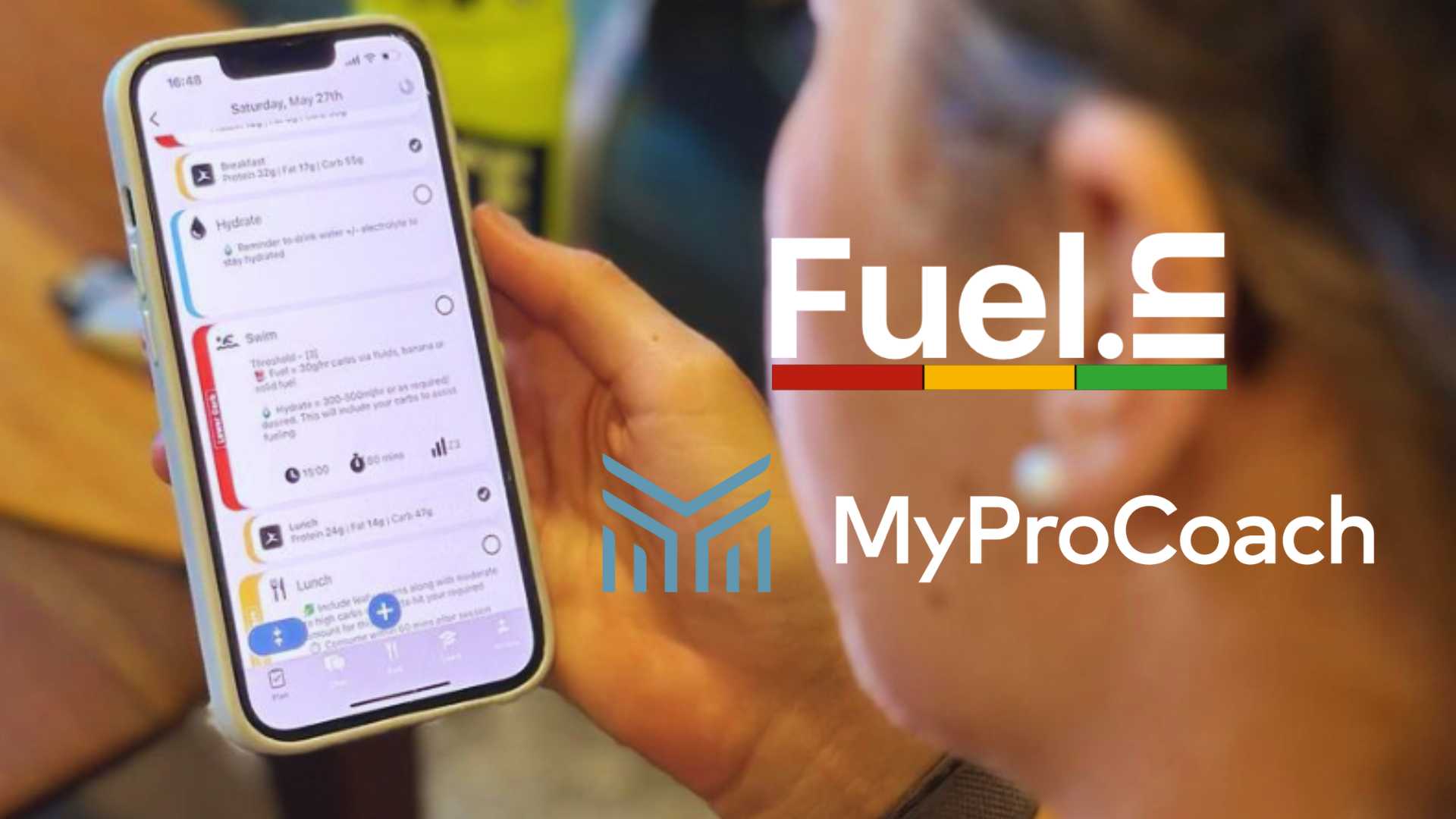 (San Francisco, CA) /ENDURANCE SPORTSWIRE/ – Nutrition Coaching App, Fuelin is thrilled to announce its partnership with MyProCoach, a leading provider of affordable endurance training plans with coach support on TrainingPeaks.
Fuelin's mission is to simplify nutrition coaching by leveraging its unique adaptive AI platform, offering athletes a roadmap for optimal nutrition. This partnership with MyProCoach underscores a commitment to providing endurance athletes with everything they need to reach their athletic goals and ensuring athletes not only train right but also fuel right.
This partnership will enable Fuelin to seamlessly sync with an athlete's MyProCoach plan on TrainingPeaks, generating precise recommendations for fueling before, during, and after training, as well as day-to-day nutrition. Every facet of training—timing, duration, and intensity—is factored in, ensuring athletes are covered, be it for race day fueling and hydration requirements or achieving their ideal body composition in the off-season.
Phil Mosley, the brain behind MyProCoach, encapsulates the mutual sentiment: "I've seen first-hand the huge difference that diet and race-fueling can make to event-day performance. That's why we're so excited about our partnership with Fuelin. Their expertise has already been transformative for one of our coaches, Faye Clothier, helping her to set a new personal best at the Challenge Roth long-distance triathlon in Germany this year. And now we're looking forward to working with them to help all our athletes reach even higher levels of success."
Jonathan Lee, CEO of Fuelin adds: "Our collaboration with MyProCoach signifies a pivotal step towards broadening access to tailored nutrition coaching. Phil's exemplary platform has already benefited over 40,000 endurance athletes. We're excited to enhance the experience of MyProCoach athletes as we jointly endeavor to provide elite coaching and insights to an even larger endurance community."
Triathlon and endurance coaches can find out more about Fuelin and how to integrate Fuelin's nutrition expertise within their coaching programs by emailing info@fuelin.com. Individual athletes can sign up directly for Fuelin's nutrition coaching programs on Fuelin's website (www.fuelin.com).
ABOUT FUELIN
Fuelin is a nutrition coaching app and program that takes the guesswork out of daily nutrition, fueling, and hydration for endurance athletes. Using a simple traffic light system, the Fuelin app provides athletes with a personalized nutrition program based on their individualized training plan, including practical guidance on when, how much, and what type of nutrition to consume for optimized performance and health.
ABOUT MYPROCOACH
Founded by Phil Mosley, who brings over 20 years of experience, MyProCoach focuses on developing effective training plans that fit an athlete's daily life. With an emphasis on balancing athletic training with personal and professional commitments, MyProCoach ensures athletes achieve their goals without compromising other important aspects of their lives. Training plans on MyProCoach are offered via TrainingPeaks.