From Couch Potato to Endurance Athlete Author, Hilary JM Topper, Launches New Endurance Sports Edition of her Podcast, Hilary Topper on Air
May 12, 2023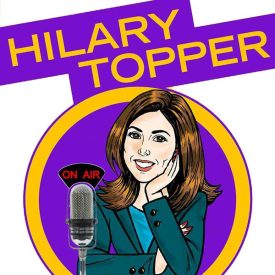 May 12, 2023 (Merrick, NY)/ENDURANCE SPORTSWIRE/ – Hilary JM Topper, author, blogger, podcaster, influencer, and digital marketer announced the launch of a new endurance sports edition of her long-time podcast, Hilary Topper on Air. The podcast aims to assist beginner and advanced endurance sports enthusiasts by featuring brands and experts who can provide insights and tips on topics ranging from training and nutrition to mental toughness and race strategy.
Topper, a seasoned endurance athlete herself and an influencer on Instagram, is passionate about the sport and is committed to helping others achieve their athletic goals. The podcast will feature interviews with accomplished endurance athletes, coaches, nutritionists, and sports psychologists, who will share their personal experiences and offer advice on how to overcome the challenges of endurance sports.
Listeners can also look forward to Topper's own personal anecdotes and stories from her journey as an endurance athlete, which she shares on her popular blog, A Triathlete's Diary. Her latest book, From Couch Potato to Endurance Athlete, chronicles her journey from being an overweight, sedentary entrepreneur to an age group athlete. It offers practical advice and inspiration for anyone looking to make a similar transformation.
In addition to launching the podcast, Topper is also offering sponsorship opportunities for companies interested in reaching the endurance sports market on the new podcast. As an experienced marketer, she understands the unique needs of companies in this space and can help them reach a highly engaged and motivated audience.
Hilary Topper on Air – the endurance sports edition will release new episodes every week and is available on major podcast platforms, including Apple Podcasts, Spotify, and Google Podcasts. For more information on the podcast or sponsorship opportunities, visit Hilary Topper's website at www.hilarytopper.com/podcast.
Interested in sponsorship opportunities, reach out to Hilary Topper at hilary@hjmt.com or Lisa Gordon at lisa@hjmt.com.
###