Forward Motion Events Launches Unique Three Month Series for Women to Head into 2021 Mentally and Physically Strong
December 9, 2020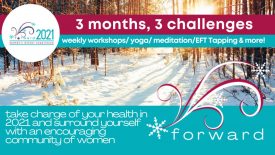 December 9, 2020 – Rachel Martin, Founder and CEO of Forward Motion Events has created a first-of-its-kind series for women who are looking to launch into this winter with optimism and strength. The Women's Winter Experience is designed to keep women connected, moving forward towards a goal and sane during what is expected to be one of the most difficult winters we have experienced due to
Covid-19.
Unlike a traditional virtual event, the Women's Winter Experience is a three month series with a blend of challenges, daily motivation and weekly events women can attend online with the community of women. Each month you will choose your challenge and be sent a swag package. Each week there will be virtual yoga classes, guided meditation, EFT Tapping, workshops with women leaders, pop up dance
and cooking classes and much more.
"Women were asking what they were going to do this winter to stay mentally and physically fit. Many of us are missing the community of friends we look to for motivation and camaraderie. I have been wanting to blend my passion for personal development with events for a while now, and knew this was something I needed to make happen for us," said Rachel Martin.
This isn't the first event Rachel has produced geared towards helping women move forward in their lives. Last October she held an all-women's conference with Meredith Atwood, aka swimbikemom, as the keynote speaker. "Rachel Martin is the REAL DEAL. She's inspiring, fun and full of energy to keep you on the right track."
Another speaker at that event, Lisa Flynn, Founder and CEO of Yoga4Classrooms said this about Rachel, "Rachel is the quintessential queen of inspiring event creation. She packs energy, positivity and tremendous value into every experience. The best part? She does it all with intention, purpose and a BIG heart!"
Eva Solomon, owner of Epic Races said, "Rachel produces one-of-a-kind, creative, inspiring, organized, and outstanding events. She is known for her attention to detail and is my go-to person for collaboration on my own events. I only wish we lived in the same city!"
The Women's Winter Experience will be held from January 1, 2021-March 31, 2021. If you are looking to stay inspired, be surrounded by positive energy and head into the new year mentally and physically strong, sign up here at https://runsignup.com/Race/ME/SouthBerwick/WomensWinterExperience. Join the conversation on Facebook, Instagram and through the hashtag #womenswinterexperience.
Forward Motion Events
Forward Motion Events is an optimistic philanthropic events company in the North East. Events include the Pumpkinman Triathlon Festival which has won awards from Triathlon Business International for Best Small Race, Most Scenic Course, and Best Beginner's Race. Forward Motion Events also produces the all-women's Luna Run as well as Rick's Run which was created in memory of founder Rachel Martin's father to benefit Veterans. www.forwardmotionevents.com