Former Penn State Professor and Cycling Coach Honored with Amateur Race Series in His Name at the Valley Preferred Cycling Center
April 25, 2023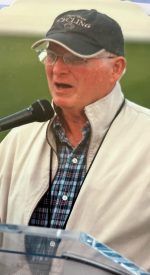 The Jim Young Super Tuesdays presented by BJC Webpage Crew Series kicks off on May 23, 2023
Trexlertown, PA/ENDURANCE SPORTSWIRE/ – The Valley Preferred Cycling Center, the home of cycling in the Lehigh Valley and host of the world's premiere weekly professional and amateur racing series, is thrilled to announce the Jim Young Super Tuesdays presented by BJC WebpageCrew track cycling series. The weekly racing program will highlight the best junior (18 and under) and amateur riders in the region, and provide a much-needed developmental stepping stone for those with Olympic ambitions like Lehigh Valley-based Olympians including; Lauren Tamayo, Jame Carney, Bobby Lea, Mike Friedman, Tanya Lindenmuth, Matt Baranoski, and more.
Starting on May 23, 2023, and continuing until the end of August, the VPCC will host the Jim Young Super Tuesdays, featuring a variety of Olympic style track cycling races. Grouped into ability-based categories, racers will compete in events including; Scratch Races, Points Races, Eliminations, Sprint Tournaments, and many more. Tuesday night racing at the VPCC is the proving grounds for many of the young up and coming racers. Juniors will often race the adult ability-based categories to gain the experience necessary to be invited to race with the professionals on Friday nights.
"We are thrilled to partner with BJC WebpageCrew (www.webpagecrew.com) to highlight the positive impact Jim Young had on the sport of collegiate cycling in the Lehigh Valley and nationally," said Andrew Paradowski, Expert Executive Consultant for the Valley Preferred Cycling Center. "This event series embodies the energy and passion that Jim Young brought to the cycling world and our community. We look forward to continuing his legacy by providing both a pathway to the Olympics and a great education through cycling," continued Paradowski.
BJC WebpageCrew, a prominent web design and digital marketing agency, has come on board as the presenting sponsor of Jim Young Super Tuesdays. Their support will ensure the series is a fitting tribute to Jim Young and his contributions to the sport.
"Jim Young was an inspiration to me and was the reason I attended and graduated from Penn State University while also competing as a cyclist," said Jake Burns, founder of BJC WebpageCrew. "His positive attitude and insistence on excellence both on the track and in the classroom truly changed the direction of my life. I hope that through this series we can inspire the next generation to achieve success both on and off the velodrome."
The Jim Young Super Tuesdays presented by BJC Webpage Crew track cycling series honors a man who's legacy can't be captured in a few sentences. Jim touched the lives of many of the Lehigh Valley's junior bicycle racers who started their track racing experiences as early as eight years old in developmental programs hosted by the VPCC. Jim Young was an Assistant Professor of Kinesiology at Penn State University Lehigh Valley, founder of the Penn State Cycling Team, director of the Future Champions Cycling Club, and one of the founders of the National Collegiate Cycling Association. He led the Penn State Cycling Team for over 30 years and coached the team to more than a dozen national championships in the team competition and over 45 individual titles. He also personally coached five U.S. Olympians. He was an inspiration to an entire generation of collegiate cyclists and embodied the positive morals that created not only cycling champions, but caring members of society. Jim Young passed away in 2021 after a hard-fought battle with Parkinson's disease.
For more information on the Jim Young Super Tuesdays presented by BJC WebpageCrew track cycling series, including race schedules, participating athletes, and additional event details, please visit the Valley Preferred Cycling Center website at thevelodrome.com.
About Valley Preferred Cycling Center
The Valley Preferred Cycling Center, located in Breinigsville, PA, is a world-class venue that hosts local, national, and international cycling events. Founded in 1975, the VPCC has been committed to fostering the growth of competitive cycling and providing a welcoming environment for athletes, fans, and the local community. Learn more at https://thevelodrome.com/.
About BJC WebpageCrew
BJC WebpageCrew, founded in 2011, is a leading digital marketing agency specializing in website design, email marketing, and e-commerce digital marketing solutions. With a focus on delivering exceptional customer experiences, BJC has empowered hundreds of businesses from local small businesses to national brands to grow and succeed in the digital landscape. For more information visit www.webpagecrew.com.
Press Contact:
Andrew Paradowski
Valley Preferred Cycling Center
610-395-7000
info@thevelodrome.com