Fitscope Launches Revenue Sharing Program for Equipment Manufacturers
July 10, 2023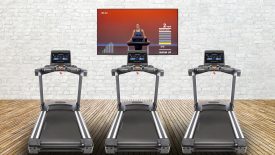 Introduces freemium tier of cardio classes to boost virtual engagement
Los Angeles (July 10, 2023) /ENDURANCE SPORTSWIRE/ – Fitscope, a leader in the production of studio classes for connected fitness equipment, announced today they will now offer free content and a share of affiliate revenue to OEM (original equipment manufacturer) partners that bundle Fitscope's content with their equipment following the launch of their freemium tier called Fitscope Free, which provides on-demand cardio workouts on their popular mobile app.
The Free tier offers access to 70 of Fitscope's virtual classes – available for free – from more than 20 Fitscope trainers each month that include indoor cycles, recumbent bikes, ellipticals, treadmills, rowers, and more. This Free tier is available for both at-home users and commercial gym customers.
"We are thrilled to offer our OEM partners a free entry point to our content for their customers while offering a 20 percent affiliate revenue share when end users choose to upgrade, said Ed Stansfield, Founder of Fitscope. "We're confident that once they start using Fitscope classes, eventually end consumers will subscribe to a paid tier to gain access to the complete workout library as well as advanced features such as Bluetooth equipment pairing," added Stansfield.
From the free plan users can upgrade to a Pro subscription which opens up Fitscope's entire library of over 1,000 classes as well as technology features such as Bluetooth FTMS and HRM pairing, calendar scheduling, and more. End users are then able to buy the Pro subscription at a monthly cost of $14.99, quarterly for $29.99, or annually for $99.99.
Fitscope offers follow-along on-demand classes for most types of popular cardio machines as well as other genres such as yoga, pilates, strength, core, and stretching that are led by virtual trainers from Fitscope's Los Angeles-based studio with new classes released daily.
The Fitscope app is Bluetooth-compatible, allowing equipment pairing to track real-time workout data such as RPMs, mph, watts, and more depending on the equipment and Bluetooth-connected devices. Plus, tracking information is displayed at the bottom of the trainer-led classes. Users who chose not to use Bluetooth-compatible machines can track progress via graphics in the video with the instructor's metrics, such as RPMs, resistance level, interval times, and more so that the user has workout goals to aim for during the workout.
The Fitscope app is compatible with heart monitors and the iWatch app which allows control of the video in the app right from your Apple Watch. Users can start or stop a video from their wrist instead of reaching forward to their phone or tablet.
The app can be installed on cardio machines that have an Android-based console or can be downloaded from the app stores for use on phones or tablets.
About Fitscope
Fitscope Studio produces original cardio and strength content for its own Fitscope app (available in all app stores) as well as major fitness OEMs and other apps. With its own production facility in Los Angeles, Fitscope releases dozens of new workouts every month for all types of indoor bikes, ellipticals, rowers, treadmills, functional trainers, vertical climbers, and more.
###
Media Contact
Matt Fitzgerald
True North PR
781-974-6657