F2C Nutrition Inks Multi-Year Nutrition Partnership with Gran Fondo Hincapie
April 27, 2021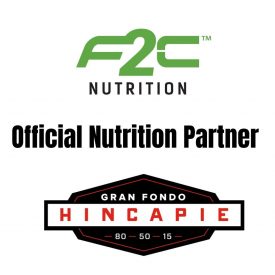 F2C Nutrition Inc. is proud to be the official nutrition partner for the Gran Fondo Hincapie series. F2C Nutrition, known for its clean, athlete-focused, science driven premium sports nutrition products and internationally recognized for quality and innovation, will be at all the events with nutritional and electrolyte beverages. "We are excited to be partnering with George and Rich Hincapie and the Hincapie Family," says F2C Nutrition President and CEO Greg Cowan. "We share similar philosophies for athlete experiences and look forward to adding to the already stellar events."
Rich Hincapie, president of Hincapie Events, LLC responded, "F2C is the perfect nutrition partner for our Gran Fondo series because we have so many high-level athletes that do our rides. Greg's emphasis on education really offers a value-add for our participants since they are able to learn about the products and the science behind them to understand how F2C can directly improve their performance."
Hincapie will host two Gran Fondos in 2021, welcoming riders of every skill level and celebrating all things cycling. The first is May 1st in Chattanooga, TN and the second in Greenville, SC on October 23rd. The latter will be celebrating its ten- year anniversary in 2021. F2C Nutrition is happy to provide nutrition to support all athletes. Athletes can expect to see Glyco-Durance at all aid stations to fuel their Fondo experience in Chattanooga and Greenville, with the addition of the F2C Recovery Zone Experience in Greenville.
About Hincapie Events, LLC
Originating in 2012 in Greenville, South Carolina, Gran Fondo Hincapie has quickly become known as the ultimate cycling experience.  The event series is distinctive for the high-end customer experience it provides, defined by personal attention and luxury. Essential to this experience are celebrity and professional cyclists, careful attention to safety, on-site viewing screens, course and segment timing, live tracking and streaming, live bands at rest stops, and a free post-ride family festival.  With plans for continual expansion into more cities, the series is currently comprised of events in two locations: Greenville, South Carolina and Chattanooga, Tennessee. Consistent across all Gran Fondo Hincapie rides are the standard distances of 15-, 50-, and 80-mile routes, as well as careful attention to each aspect of the customer experience.  For more information visit www.hincapie.com/granfondo/
About F2C Nutrition Inc.
F2C Nutrition is an athlete-focused, science-driven sports-nutrition company, supporting athletes by delivering premium quality, clean products. Superior nutritional products and nutrition education is key to an athlete's performance and success. F2C Nutrition products undergo stringent testing and assures athletes that every batch of our product is tested for impurities, toxins and substances considered prohibited in sport by the World Anti-Doping Agency (WADA). Learn more about F2C Nutrition Inc. at F2CNutrition