European start-up GOFLUO raises €1M to accelerate North American growth with its stylish Bodyglowers
June 5, 2023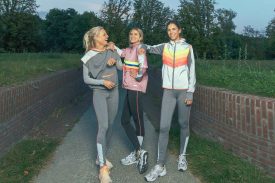 GOFLUO raised €1M to accelerate company growth and expand to the US, France and Germany. Four experienced business angels, and existing shareholder VC fund Freshmen, participated in the round.
/ENDURANCE SPORTSWIRE/ – GOFLUO, the innovative Belgian fashion brand that fuses style and safety, was founded in 2018 by Julie Vets. The fashion designer and mother of three recognized the need for high-visibility clothing that looked as good as it was safe. With the growing popularity of (e-)bikes, steps and scooters, the traditional, uninspired yellow safety vest no longer fit the bill. Vets saw an opportunity to create something fresh and modern, and thus, the Bodyglower was born. The Bodyglower is more than just a new piece of clothing; it's a lifestyle choice that merges practicality and aesthetics to stay visible and chic.
Since the successful launch of the Bodyglower on its webshop in 2018, the company has experienced a significant growth. The Corona lockdowns stimulated the urban outdoor trend that GOFLUO is built on. The brand's innovative approach to high-visibility clothing has led to partnerships with numerous retail stores across Europe, with Belgium, Germany, and France being key markets. Today, GOFLUO has expanded its reach and presence, with its products now available in 10 countries, including the United States and Canada.
GOFLUO is celebrating its fifth anniversary. The all female team is fully committed to their mission to make the Bodyglower a household name and a beloved brand that improves daily life. Their range of safety products, including the iconic Bodyglower, cycling bags, activewear, and dogwear, are a must-have for anyone who wants to be safe, visible, and stylish. Whether walking the dog, cycling to work, or going for a late evening run, GOFLUO products are the perfect choice.
In 2019, GOFLUO secured its first capital increase with the backing of Freshmen, a new D2C fund established by Hendrik Winkelmans, the founder of the first chain of bicycle shops in Belgium (now Bike Republic, Colruyt Group). Since then, GOFLUO has continued to expand, achieving numerous successes, including winning 2 Awards in 2022 (Be-commerce start-up and advertisement award).
The company has focused on developing strategic partnerships with specialized resellers in the bicycle, running, and outdoor industries, while also collaborating with major players like AS Adventure (BE), Globetrotter (DE) and Le Bon Marché (FR), who will soon offer their fashionable items. Velo Premiere, their distributor based in Salt Lake City, will provide support for their business-to-business (B2B) expansion across the United States, Canada, and Mexico.
Four business angels decided to invest €500K in the Antwerp-based company. Together with the contribution of existing investor Freshmen, the company raises 1 million euros. With this capital injection, GOFLUO is poised to accelerate its growth trajectory and is actively on the look-out to extend its dealer base and ambassador network. Additionally the company is actively seeking creative partnerships with global brands. Its omnichannel strategy and long-term partnerships have been instrumental in the company's success. The newly raised capital will help to establish a strong foothold in the market for years to come.
CEO and founder of GOFLUO, Julie Vets, expressed her excitement at securing the recent investment round, stating, "This funding will allow us to continue growing and making a positive impact on people's daily lives." Vets also noted that it can be challenging for single female founders to secure funding, making the achievement all the more significant in a tough fundraising environment, particularly as the market cools down.
Freshmen, the current investor, commented, "We are delighted to continue our support for GOFLUO. The company's innovative proposition has the potential to disrupt the market, successfully combining fashion and safety to provide consumers with the best of both worlds".
Contact information:
Julie Vets
+32 485 38 19 92