Endurance Sportswire Executive Interview Series – CREDO Tri's Co-Founder and CEO Heath Eskalyo
March 9, 2021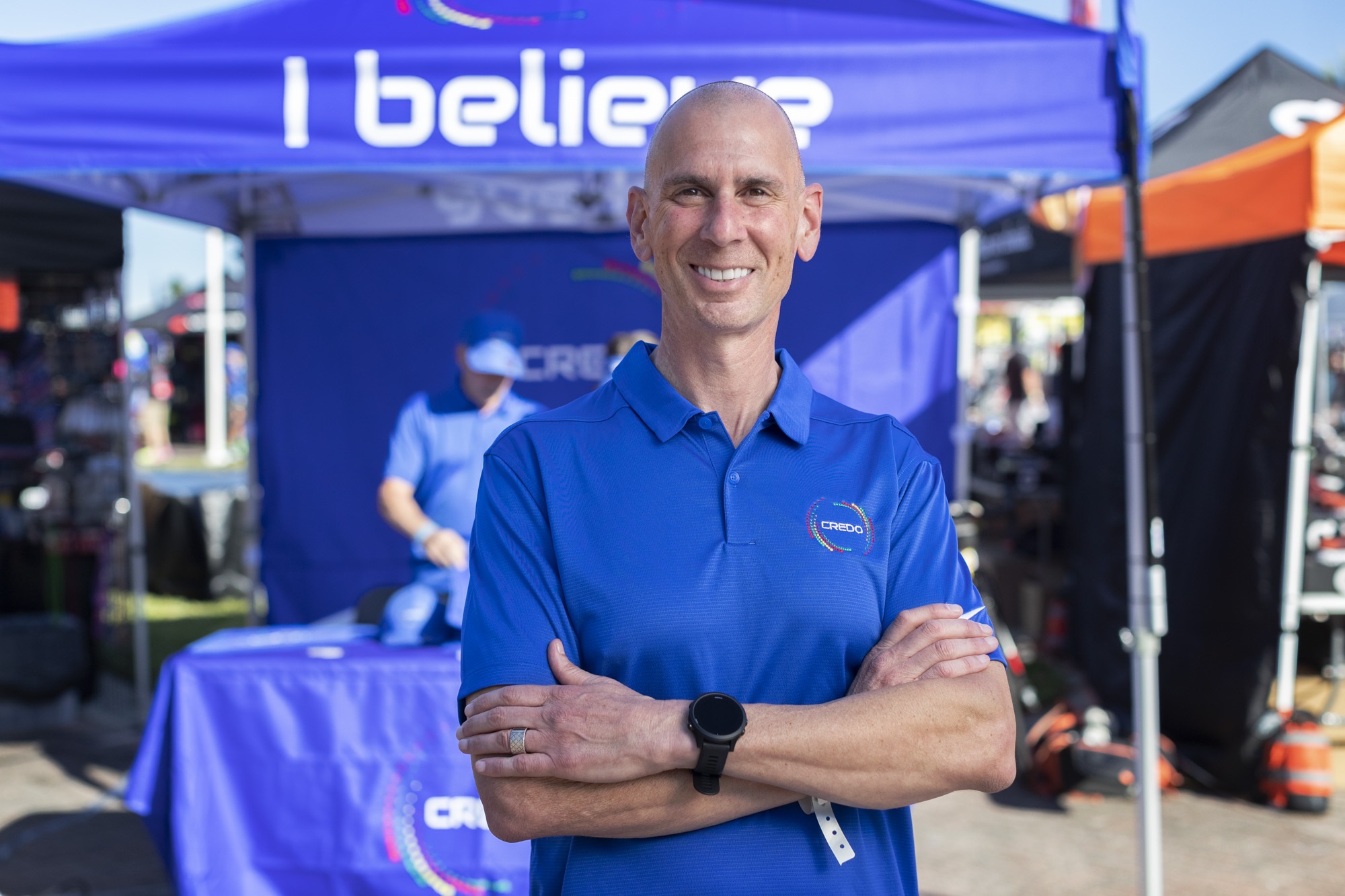 Heath Eskalyo recently launched a new mobile app for triathletes that motivates, inspires and brings together age group triathletes and pros. We sat down with Heath for a Q & A to learn more about his idea for the app and how it is helping triathletes.
Tell us a bit about your background and how you came up with the idea for the Credo Tri app.
My day job is a partner and CFO at a law firm, but I have been a passionate age group triathlete for more than three decades. I have a great coach, but of course he is not with me every day. And like many age groupers, I found I needed a push and some inspiration to get me in the right mind space to train early in the morning or late in the evenings. I wanted to create an app that motivated age group triathletes through the inspiration of the pros.
How does the Credo Tri app work?
The Credo Tri app is a motivational app that inspires people to be the best they can be. It is available on Apple and Android with a monthly or annual subscription. With the app, age group triathletes can set a variety of alarms to wake them up or remind them to train for a particular discipline.
For example, a triathlete might need to get up for an early morning swim. Unlike a regular alarm, users of the Credo Tri app would wake to a video from one of our Credo professional triathletes that includes an inspirational message to help them get motivated and excited for their swim. Additionally, they would receive a "take away" swim tip to improve training. This is in no way meant to replace a coach or a program, but rather make getting up early in the mornings to train or getting in a late night run more enjoyable.
What does Credo mean and how did you come up with the name?
Credo comes from the Latin word meaning "I believe." Triathlon is such a unique sport in that age-groupers race on the same course as the pros at the same time. There is a real camaraderie amongst the age-groupers and pros, and "I believe" represents the admiration that each group has for one another.
Who are some of the pros on the Credo Tri app?
We are fortunate to have gathered the best of the best to be a part of the app. Some of the names you might recognize include Sebastian Kienle, the Brownlee Brothers, Craig Alexander, Leanda Cave, Ellie Salthouse, Dave Scott, Tim Don, Meredith Kessler, Dave Scott, Non Stanford, Michelle Vesterby, Matt Hanson, and many other amazing athletes.
What is your connection with the Challenged Athletes Foundation?
The Challenged Athletes Foundation is our official charity and was a natural fit for Credo Tri.  CAF empowers lives through sport, and we embrace their mission to provide opportunities and support to people with physical challenges.
So in addition to our professional athletes, we also have several "Inspirers" through CAF. These athletes excite us to want to train and be better people and triathletes. They include athletes such as Fireman Rob,  Lauren Parker, Rudy Garcia-Tolson, "One Arm" Willie Stewart, and Chris Nikic.  We are honored to have them as part of the Credo Tri app and CAF co-founder Bob Babbitt as one of our mentors.
Pro athletes have been hit hard by the pandemic. Do they receive any benefits from the app?
Yes, the athletes also receive a portion of the profits from the app which was really important to us.
Any other cool features a subscriber receives?
Yes, we have exclusive VIP Zwift/Rouvy meet-ups and Zoom Q&As with our pros as well as promotional partner discounts with a number of triathlon product and service providers.
Two of our most exciting benefits is our Ask a Pro and Personalize Message offerings. For an additional fee, subscribers can "ask a pro" a training question or get specific tips to prepare for a race, and receive the answers in a personalized video.
Additionally, they can have a pro deliver a personalized video message to a friend wishing them good luck in a race, happy birthday, or whatever they wish.
We can also schedule a "virtual appearance" from one of our pros to appear at a triathlon club or  triathlon party to discuss training, participate in a Q&A, or even conduct a live virtual training session. This can be booked through info@credotri.com
The Credo Tri app can be downloaded on the Apple app store and on the Credo Tri website at www.credotri.com