Endurance Quest Espoo Returns to the Adventure Racing World Series
August 9, 2023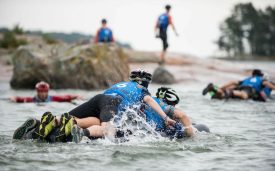 Thirty-two teams will start their 226-kilometer World Series race in Finland on Saturday morning at 10am.
/ENDURANCE SPORTSWIRE/ – After a nine-year break, the legendary Endurance Quest Espoo (FINLAND) Adventure Race returns to the Adventure Racing World Series this coming weekend – and once again the race is sold out.
Thirty-two teams, two more than planned, will start their 226-kilometer challenge on Saturday morning at 10am.
They will face a 226 km long course with a winning time of around 21 hours. The course consists of 9 stages; mountain biking, trekking, kayaking, canoeing-swimrun & rope activities. Leg 8 is 6km of canoeing-swimrun, where teams can leave their canoe and 'run&swim' to punch checkpoints, or just , or paddle whole leg.
The Swedish Armed Forces Adventure Team, winners of 2021 Adventure Racing World Championship are travelling to Endurance Quest to compete and will be the team to beat. The race is also ideal training for the next world champs in South Africa.
"After Adventure Race Croatia in May, we decided to do one shorter race in August as preparation for the World Championship. The goal is to do a good race without mistakes. Unfortunately John (Karlsson) is struggling with a wrist injury so he can not take part. So we will be outside the ranked competition, but anyway we will do our best! It is a big difference competing 4-5 days versus 24 hours. I think there will be many fast teams." Oskar Svärd said.
Navigation is demanding during the Endurance Quest Espoo and there are a lot of route choices. The race has a lot of different maps with a scale of 1:7 500 – 1:20 000, there are also IOF standard orienteering maps with difficult navigation. Also the teams receive all but the first race maps at TA2, so they have to plan their route choice during the race!
"In EQ there are no waterproof maps and we will receive the maps during the race. It is the same in the World Champs and it is new for me as a navigator so it will be good practice for us!" Oskar Svärd tells.
The Finnish teams who will challenge SAFAT are likely to be Multisport.fi, Mareld Pro Lightning, Free Adventure, Bull Adventure, and Avanti Adventure. Captain Ville Mäkelä of Multisport.fi expects navigational challenges along the forests and coastline of Espoo.
"We expect fair competition and a good route both on land and at sea. It's great to have an international competition in Finland after a long time," he said. Multisport.fi took second place in the European Championships in 2016 in Ireland & 4th in the Nordic Islands Adventure Race 2018. And after that they have been racing in ÖtillÖ and other ultra long races.
Many Estonian teams are traveling to Finland, for example team Onnevalen who took third place in Expedition Estonia and Metsapeatus who took fourth place in Expedition Estonia & Raid Lowlands.
Two ARWS Race Directors are also joining Endurance Quest. Pablo López Franco who is Race Director of Raid Gallaecia and stated the World Champs 2021 & European Champs 2022, and Team XPD Holland who are Race Directors of Raid Lowlands are expecting different terrain than Netherlands and a challenging race with a sea kayaking leg.
The winner of the race gets a free ticket to the European Championship in France in September. From France the winner will catch a place at the Adventure Racing World Championship 2024 in Ecuador.
The competition is organized by the Northern Adventure Team from Espoo. Despite its young age, the team has quickly risen in prominence in the Finnish adventure sports scene. They took second place in Raid Lowlands last May.
The young team is assisted by Petri Forsman and Harri Hollo, who have been involved in the adventure sport for over 25 years. Forsman is the official ARWS referee at Endurance Quest. Petri is a legend of adventure racing. His list of achievements includes winning the first ARWS World Championship in 2001, the European Championship, and the legendary Raid Gauloises and Mild Seven races.
Hollo Sr. is primarily a mentor for youth and is the official Competition Director at ARWS Espoo EQ. In 1999 Mr.Hollo Sr., as a member of Team Halti, won the 733 km long race 'The Endless Odyssey' and that race was the first adventure racing experience for his son Lauri, who is the Technical Director of EQ 2023.
Endurance Quest Espoo is a welcome return to Finland for the AR World Series and spans the generations from the early days of adventure racing to current young racers making their mark on the sport.
Follow the event:
Website; https://en.northernadventure.fi/endurancequest
Tracking; A live link will be on the website once the race starts
INSTAGRAM > https://www.instagram.com/endurancequest_finland
FACEBOOK > www.facebook.com/profile.php?id=100086950750148
#endurancequest #EspooLiikkuu #arwseurope #arworldseries #adventureracing