Digit Bikes Introduces Unique, GOLD-Award-Winning Full Suspension Bike, with Integrated Shock Absorber
September 22, 2021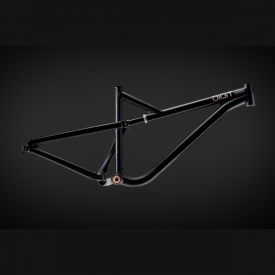 IRVINE, CA (Sept. 22, 2021) /ENDURANCE SPORTSWIRE/ — Veteran bicycle industry engineer and entrepreneur Tim Lane launched Digit Bikes this month with a groundbreaking new suspension system, named ANALOG. Digit Bikes has crowdfunding their launch with a Kickstarter campaign. At time of writing, funding is 100% secured, and pre-orders will continue through October 1st.
Digit Bikes' Analog suspension technology won both the EUROBIKE GOLD and EUROBIKE START-UP awards. It was the only entrant to win two awards and was singled out during the award ceremony for being extraordinarily remarkable.
Analog Suspension is a unique multi-link mechanism, delivering improved shock performance, improved chassis stiffness and improved reliability over existing suspensions. Analog suspension employs an integrated Strut type shock absorber (named INTEGER). It employs fork bushings and is designed to deliver improved longevity, easier service and a 2:1 motion ratio.
Additional Benefits:
Hundreds of grams lighter and stiffer than its competition.
Allows the use of longer dropper posts.
Enables the rider to carry two water bottles inside the front triangle.
"After years of keeping my rides secret, it's been very exciting to show my bike and share its benefits with the MTB community. The industry and consumer response has been overwhelmingly positive, and the media's test ride reviews have glowed with enthusiasm." said founder Tim Lane. "Hitting the 'fully-funded' goal with time to spare has added a reassuring dose of 'social proof'; we're looking forward to smashing past 100% in the time remaining. Everything is designed and built here in the US. By working locally we're able to maintain our pace of innovation, work around the COVID supply chain restrictions, support domestic manufacturing, and reduce our environmental impact."
Though fully funded, all dollars above the 100% mark will help Digit Bikes more rapidly increase production and begin development of additional models. Digit's first model, DATUM, has 140mm rear suspension travel, and is Made-in-USA, avoiding the pandemic related supply chain issues which have plagued the industry.
Complete product information, photo and video assets can be found at DigitBikes.com.
###
About Digit Bikes
Digit Bikes creator, Tim Lane grew up in England, obsessed with bikes. His parents never owned a car, so as a kid he rode everywhere and didn't get a driving license until he was well into his 20's. Lane started his first business at the age 15 in order to buy a mountain bike, and has worked in the bike industry in a variety of positions; mechanic, tech support, Rockshox tuner, and as a designer, engineer and product developer for bikes raced on the Mountain Bike World Cup Circuit and in the Tour De France.
In 2012 he founded DirtBaggies, bringing the all-day comfort of bib-shorts to baggy short wearing mountain bikers. Lane ran his first successful crowdfunding campaign with DirtBaggies. By treating clothing as equipment, not simply as fashion, he created a new and now ubiquitous market segment in the mountain bike apparel industry.
Now based in Irvine, CA, Tim Lane Design has International Patents Pending pertaining to the DirtBaggies and Digit Bikes brands. Learn more at timlanedesign.com.