Data Driven Sports/ShotTracker to Provide Data and Advanced Analytics for Big 12 Basketball
January 13, 2022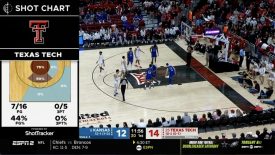 Presented Through ESPN Edge Innovative Collaboration
KANSAS CITY, Mo. – (January 13, 2022) /ENDURANCE SPORTSWIRE/ – Data Driven Sports (DDSports), the parent company of ShotTracker, today announced they have entered into an agreement with ESPN to provide data and analytics for Big 12 Conference basketball games. The multi-year deal gives ESPN the opportunity to integrate ShotTracker data throughout its linear and digital properties to drive fan engagement, enhanced storytelling and broadcast automation. The first stage of the collaboration kicked off last Saturday afternoon with advanced graphics integrated into ESPN's broadcast of the Kansas vs. Texas Tech men's basketball game on ESPN2. The video can be seen here https://www.youtube.com/watch?v=pFpMRT5C2Jw
ShotTracker is entering its second year of partnership with the Big 12 Conference, which has integrated ShotTracker's sensor-based technology in its arenas and practice facilities for the men's and women's programs, as well as into basketballs and player jerseys. The output of this integration is sub-second X-Y-Z player and ball location data and over 100 real-time stats, including advanced analytics such as lineup efficiency, ball movement stats and screen types with outcomes. ESPN will now have access to the same advanced stats that Big 12 coaching staff utilize on the bench via the ShotTracker team app to optimize their lineups and play calling.
"We are thrilled to be working closely with ESPN to drive what will be unprecedented innovation in sports," said Davyeon Ross, ShotTracker Co-Founder and President. "Our autonomous, sub-second data has the potential to impact many areas of their business, including not only personalized fan engagement but also broadcast efficiencies and increased content output."
As part of the new ESPN Edge Innovation Center, ShotTracker is working closely with ESPN to test various new enhancements across ESPN's fan-facing platforms.
"We are excited to use ShotTracker technology as it provides sports fans with more in-depth stats and analysis for the sports they know and love," said Kevin Lopes, Senior Director of Content Business Development & Innovation at ESPN.
About ShotTracker
ShotTracker was co-founded in Overland Park, Kansas by basketball and technology experts Davyeon Ross and Bruce Ianni. ShotTracker's innovative system delivers 100+ unique and completely autonomous basketball stats and insights to teams, broadcasters and game partners with sub-second latency. ShotTracker is currently being utilized by 63 men's and women's college basketball programs spanning 12 conferences. Its partners include Nike, Adidas, Under Armour, Spalding and Wilson. For more information, visit ShotTracker.com
Contact: Joe Favorito/917-566-8345 joefavorito2@gmail.com