Danny Faupel has Joined RaceTimes Magazine as Associate Publisher
August 17, 2023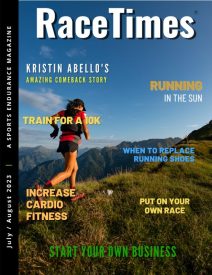 The publishing veteran has joined this fast-growing publication serving endurance athletes across North America
St. Louis, MO/ ENDURANCE SPORTSWIRE/ – RaceTimes Magazine has hired Danny Faupel as Associate Publisher. "Danny comes to us with more than 30 years of experience in all aspects of the magazine publishing business," said Kurt Hansen, President and CEO of Innovative Timing Systems, the publisher of RaceTimes Magazine. "Danny will bring us to the next level by expanding our engagement with more than 746,000 readers. Plans are now underway to expand our content across multiple platforms, including RaceTimes magazine, RaceTimesMagazine.com, social media, and live events. This will give advertisers many more opportunities to reach our very active audience."
RaceTimes is a FREE bi-monthly online magazine that brings you articles on all things health and fitness related. Created in 2017, RaceTimes magazine is quickly becoming a must-have fitness resource. We are committed to creating educational and engaging articles that can help expand your knowledge on how to become the best version of yourself. RaceTimes is published 6 times per year and each issue will be sent directly to your email inbox.
Kurt continues, "Danny's role as Associate Publisher will be multi-dimensional, including all things content and sales."
Danny talked about his experience and how it relates to his new position. "I have spent most of my career working on trade magazines, from sales to publisher to owner. I believe the same principles apply with any medium. Create and offer great content and your audience will engage and advertisers will be able to reach our audience through that engagement. I am looking forward to this new challenge and finding the best ways to use the wide variety of tools available to participate in our audience's athletic journey".
For more information please contact:
Danny Faupel
Associate Publisher
314.737.4900 x154