Daniela Ryf, Laura Phillip, Ashley Gentle, Daniela Bleymehl, and Anne Reischmann set for a Mouthwatering Showdown at 2023 IRONMAN 70.3 Switzerland Rapperswil-Jona
May 30, 2023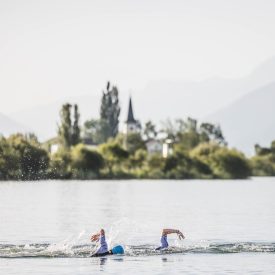 The 2023 IRONMAN 70.3 Triathlon season continues to excite with a star-studded women's professional line at the 2023 IRONMAN 70.3 Switzerland Rapperswil-Jona event which takes place on Sunday, June 11th
RAPPERSWIL-JONA, Switzerland (May 30, 2023)/ENDURANCE SPORTSWIRE/ – The IRONMAN 70.3 Switzerland Rapperswil-Jona triathlon will feature a small but strong and exciting women's professional field as the 16th edition of the event is set to take place on June 11, 2023. The twenty-one professional women who will line up in Switzerland will be competing to secure their slot for the 2023 VinFast IRONMAN 70.3 World Championships in Lahti, Finland. And will be joined by 2,500 men and women age group athletes in pursuit of an IRONMAN 70.3 World Championship qualification slot.
The professional field will see the return of five-time IRONMAN 70.3 World Champion, Daniela Ryf (CHE), who returns to IRONMAN 70.3 Switzerland Rapperswil-Jona after her triumphant victory in 2021 clocking in a time of 04:09:35 as she cruised to victory. Ryf has found great fortune racing on home soil having also won last year's IRONMAN Switzerland Thun event. It has been near impossible to beat Ryf on home soil in recent times.
However, Ryf won't be having it all that easy, with inform Laura Philipp (GER) looking to continue her hundred percent winning record this year after being crowned champion at IRONMAN African Championship in South Africa, and on home soil at IRONMAN 70.3 Kraichgau powered by KraichgauEnergie where she beat the likes of Lucy Charles-Barclay (GBR) and Ellie Salthouse (AUS) to take the top podium spot. It will be a massive statement of intent should Philipp win this one with both the VinFast IRONMAN 70.3 World Championship and VinFast IRONMAN World Championship fast approaching.
Ashley Gentle (AUS) returns to IRONMAN 70.3 racing for the first time since winning IRONMAN 70.3 Andorra in July last year. Having had a brilliant triathlon season last year, she will be one of the favourites to grab the top podium spot in this star-studded lineup. In pursuit of a podium finish, Gentle will be joined by Daniela Bleymehl (DEU) who will be looking to improve after her sixth-place finish at IRONMAN 70.3 Kraichgau powered by KraichgauEnergie this month. And the women who just pipped Bleymehl in Kraichgau by finishing fifth, Anne Reischmann (DEU), will also take to the start line looking for a podium redemption.
The professional women's field will also feature Nina Derron (CHE), Sara Svensk (SWE), Lina-Kristin Schink (DEU), Heini Hartikainen (FIN), Justine Mathieux (FRA), Jasmin Weber (CHE) and Rachele Botti (CHE) who will all be looking to upset the apple cart, taking down a 'big name' and bagging a statement podium finish in Switzerland.
The city of Rapperswil-Jona with its gorgeous leisure district and inviting Riviera has been the host city of the IRONMAN 70.3 Switzerland dating back to 2007. The picture-perfect course begins with a 1.9KM one loop clockwise lake swim in the pristine waters of the Obersee next to the stadium. Followed by a two-loop 90KM bike course that leads into a total vertical climb of 1,100 meters, as athletes pass the Rickengebiet via Neuhaus and Goldingen and return to the lake passing Eschenbach and Schmerikon. Lastly, a two loop 21.1KM run course with rolling hills before crossing the finish line.
The full professional start list for the 2023 IRONMAN 70.3 Switzerland Rapperswil-Jona is below:
| | | | |
| --- | --- | --- | --- |
| Bib Number | Last Name | First Name | Country Representing |
| 1 | Ryf | Daniela | CHE (Switzerland) |
| 2 | Philipp | Laura | DEU (Germany) |
| 3 | Gentle | Ashleigh | AUS (Australia) |
| 4 | Reischmann | Anne | DEU (Germany) |
| 5 | Bleymehl | Daniela | DEU (Germany) |
| 6 | Derron | Nina | CHE (Switzerland) |
| 7 | Svensk | Sara | SWE (Sweden) |
| 8 | Hartikainen | Heini | FIN (Finland) |
| 9 | Schink | Lina-Kristin | DEU (Germany) |
| 10 | Mathieux | Justine | FRA (France) |
| 11 | Weber | Jasmin | CHE (Switzerland) |
| 12 | Botti | Rachele | CHE (Switzerland) |
| 13 | Siffert | Alanis | CHE (Switzerland) |
| 14 | Anderbury | Rebecca | GBR (United Kingdom) |
| 15 | Uderstadt | Jana | DEU (Germany) |
| 16 | Yunginger | Rebecca | USA (United States) |
| 17 | Indermühle | Maja | CHE (Switzerland) |
| 18 | Krüger | Katharina | DEU (Germany) |
| 19 | Jansen | Laura | DEU (Germany) |
| 20 | Schönfelder | Sarah | DEU (Germany) |
| 21 | Kleiner | Valeria | DEU (Germany) |
Images of last year's IRONMAN 70.3 Swizerland Rapperswil-Jona event can be found here. All of this year's race day images, video content and athlete quotes for IRONMAN 70.3 Switzerland Rapperswill-Jona will be uploaded here throughout race day.
For more information about IRONMAN 70.3 Switzerland Rapperswil-Jona, please visit https://www.ironman.com/im703-switzerland.
For any other media related inquiries, please email Siya Ndzimande on siya.ndzimande@ironman.com and for race day media registration, fill in the media credentials form here.
[ENDS]
About The IRONMAN Group
The IRONMAN Group operates a global portfolio of events that includes the IRONMAN® Triathlon Series, the IRONMAN® 70.3® Triathlon Series, 5150™ Triathlon Series, the Rock 'n' Roll® Running Series, IRONKIDS®, World Triathlon Championship Series, premier running events including the Standard Chartered Singapore Marathon™ and City2Surf®, UTMB® World Series events including the Canyons Endurance Runs, Tarawera Ultra and Ultra-Trail Australia™, Epic Series™ mountain bike races including the Absa Cape Epic®, road cycling events including Haute Route®, and other multisport races. The IRONMAN Group is the largest operator of mass participation sports in the world and provides more than a million participants annually the benefits of endurance sports through the company's vast offerings. Catering to the full athlete experience, the company portfolio also includes FulGaz® virtual cycling, the most realistic indoor riding experience connected fitness application aimed at preparing athletes for real-world events. Since the inception of the iconic IRONMAN® brand and its first event in 1978, athletes have proven that ANYTHING IS POSSIBLE® by crossing finish lines around the world. Beginning as a single race, The IRONMAN Group has grown to become a global sensation with hundreds of events across 55+ countries. The IRONMAN Group is owned by Advance, a private, family-owned business. For more information, visit www.ironman.com/about-ironman-group.
About Advance
Advance is a private, family-held business that owns and invests in companies across media, entertainment, technology, communications, education and other promising growth sectors. Our mission is to build the value of our companies over the long-term by fostering growth and innovation. Advance's portfolio includes Condé Nast, Advance Local, Stage Entertainment, The IRONMAN Group, American City Business Journals, Leaders Group, Turnitin, 1010data and Pop. Together these operating companies employ more than 17,000 people in 29 countries. Advance is also among the largest shareholders in Charter Communications, Warner Bros. Discovery and Reddit. For more information visit www.advance.com.