Cycling travel experts Sportive Breaks announce new partnership with Active on Holiday
August 24, 2023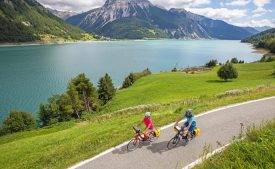 Following recent global expansion, the team at Sportive Breaks are delighted to join forces with Active on Holiday, to offer European leisure cycling holidays to their customers.
August 2023 – UK/ENDURANCE SPORTSWIRE/ – Cycling travel experts, Sportive Breaks promote bespoke premium travel packages for cyclists looking to take part in the world's most prestigious grand tours, cycling classics and weekenders. They offer a range of customised travel packages including cycling tours, training camps, hospitality, and VIP experiences, allowing their customers to experience some of the world's most popular cycling events and training destinations.
Active on Holiday offers a selection of European self-guided leisure cycling holidays for a range of abilities, ages, and destinations. Cycling holidays are a popular choice for those that enjoy staying active whilst on holiday but would prefer to do so at a more leisurely pace.
Active on Holiday's industry-leading portfolio includes over sixty different cycling tours that explore some of Europe's most spectacular routes: including the Danube Cycle Path, Alpe Adria Cycle Path, and the Rhine Cycle Route. Curated and managed by a team of industry-leading experts and part of a larger active holiday company, Eurofun Group, their packages are accessible to all ability levels and ideal for solo travellers, couples, groups, and families.
This new partnership will see the Sportive Breaks and Active on Holiday teams working together, in which they will take on joint activity and promotion of their cycling holiday travel packages. Although their offerings may differ, both companies underpin the value of opportunity – helping people from all walks of life experience life on two wheels.
Steven Rittey, UK market consultant for Active on Holiday, said:
"Active on Holiday is an exciting new brand that is backed up by the industry-leading experience and knowledge of the Austria-based Eurofun Group.
Leisure cycling holidays with included luggage transfers are an increasingly popular holiday option, and we look forward to working with Sportive Breaks and their customers to offer independent cycle touring holidays along Europe's vast network of cycle routes."
Alex De Waard, Director of Sportive Breaks, said:
"This is another significant development for Sportive Breaks, and we are excited to be able to expand upon the breadth of our cycling travel package proposition. The team at Active on Holiday promotes a superb portfolio of active leisure holidays, and I'm looking forward to working closely with the team to make cycling holidays accessible to all".
To enjoy the full Active on Holiday portfolio visit: https://sportivebreaks.com/leisure-cycling/
The Sportive Breaks team can also be found on Facebook, Twitter and Instagram.
And the Active on Holiday team on YouTube, Facebook and Instagram.
———————————————————-ENDS——————————————————————-
Contact
Name: Kate Allan
Email: kate@competepr.com
Phone: +447754 072648
About Sportive Breaks
Sportive Breaks caters for athletes who want to participate or spectate in the very best cycling across the world.
Created by Portman Travel Group, who have made significant moves in the sports travel industry in recent years launching Destination Sport Travel, Sportsbreaks.com and Amaze. Sportive Breaks is part of the larger group Destination Sport Experiences, alongside Marathon Tours & Travel, which is headed up by Managing Director, Brendan Fox, who alongside his team, has decades of experience working in the global sports travel industry.
Sportive Breaks offer travel packages and guaranteed entry to sportives, cyclosportives, grand tours, and cycling holidays around the world, together with VIP hospitality access to many of the top professional cycling events, including the UCI Cycling World Championships, Mallorca 312 and Etape du Tour – the only event that gives riders the chance to ride the exact same route as Tour de France pros, amongst many other great trips.
Sportive Breaks are fully ABTA bonded with an ATOL license, in line with the consumer financial protection requirements of UK travel law and proud winners of the Platinum Trusted Service Award from Feefo for three consecutive years.
The team has also opened offices in the USA and Australia, with cycling travel brand Sportive Breaks and world-leading running brand Marathon Tours & Travel joining the family.
About Active on Holiday
Founded in the Netherlands in 2020, Active on Holiday has quickly grown to become a leading provider of active holidays in a country that is famous for bike usage and enjoying various active pursuits. In late 2022, Active on Holiday launched a dedicated English version of their Dutch language website to offer a wide selection of European cycling, walking and family holidays to the growing English-speaking market.
Active on Holiday is part of the Eurofun Group with its head office in Austria. For more than three decades, Eurofun has had experience as a tour operator and set the standard in European active holidays with their meticulous approach to active travel logistics and delivering excellent customer service on all their routes.