Cycling Time Trials (CTT) welcomes Nick Adnitt and Helen May to the team
May 15, 2023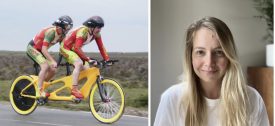 The team at Cycling Time Trials (CTT) are delighted to appoint Nick Adnitt as Support Administrator and Helen May as Operations and Office Manager.
May 2023 – UK/ENDURANCE SPORTSWIRE/ – Cycling Time Trials (CTT) are delighted to welcome two new members to their team – Nick Adnitt and Helen May, in two brand new roles, and in a move that sees the team growing and diversifying.
Nick takes on the role of Support Administrator, principally responsible for helping the time trial user community navigate the applications and systems which underpin the smooth management and operations of modern-day time trial organisation and participation.
Nick brings a wealth of experience in IT Project Management and Business Analysis, key to helping the CTT provide an efficient, robust and customer focussed platform for club and open events management. On the bike he has ridden track, road race, time trials, MTB, cyclo-cross, sportif and even designed his own TT tandem. Nick was chair of Andover Wheelers for three years and organised the infamous "Weyhill weekend".
On accepting the role, Nick said "These are exciting times for time trialing as the combination of the CTT website, ResultSheet, Spindata, MyWindSock applications, plus popular social media communication tools, offers riders a truly holistic personal profile to record and measure performance, and I'm looking forward to being part of it."
Cycling TIme Trials are also excited to welcome Helen May as Operations and Office Manager, responsible for supporting the team with policies, processes and day-to-day administration. She joins us from Sky Sports where she spent over 8 years in Business Analysis and Operational Management roles throughout a period of substantial change and transformation.
Helen's experience in business, and focus on policies and process will be key for the CTT, helping to streamline processes and procedures, making the way the business works even more efficient.
Helen's cycling career is on hold at the minute due to two little humans joining her family over the past 3 years. In the past her bike has taken her up all the Pyrenean peaks, lots of cycling around Sussex and Surrey and MTB on the South Downs. TT's have been a stalwart of family life for decades, she has spent many weekends supporting her father on various races and enjoying the tea and cake at the end!
On joining Cycling Time Trials, Helen said "It is a real privilege to be involved in the CTT as I know how important it is to the cycling community. I am very much looking forward to helping Andrea and the board navigate the next phase of the CTT and hope I can use my experience and skills to enhance the business."
For more information on Cycling Time Trials (CTT), please visit www.cyclingtimetrials.org.uk
The Cycling Time Trials team can also be found on Facebook, Twitter, Instagram, and LinkedIn.
——————————————————— ENDS————————————————————
Contact
Name: Kate Allan – Compete PR
Email: kate@competepr.com
Phone: +447754 072648
Editors' Notes
Cycling Time Trials (CTT) is the UK's time trial national governing body and promotes a wide range of events across the UK, set over a variety of distances, locations and terrains. Events span across fast and flat "drag strips", in which riders seek to achieve their fastest ride, to punchy hill climbs, road bike and closed circuit event categories.
Time trial cycling is a solo event that puts cyclists up against the clock. Events are traditionally held over set distances and riders are traditionally set off in one-minute intervals. The sport enjoyed a somewhat eclectic inception, formed by a bunch of cycling enthusiasts in 1890 after the National Cyclists' Union announced new legislation that forbade 'bunched' racing on open roads. These cyclists sought innovative ways to still enjoy the social and competitive side of their sport, and so time trialling began – with events held at dawn, on 'secret' courses, and with staggered starts.
To this day, time trial events often start early in the morning, and the sport has seen participation by some of the world's most talented riders through the years, now seeing representation at some of the most famous cycling events in the world. Cycling Time Trials is the National Governing Body for time trials in England, Scotland and Wales.
All open events are advertised in the annual 'CTT handbook' and via the website. To ride in any of them you need to be a member of a club affiliated to Cycling Time Trials. There are at least that number again of "Club Events" which are on the CTT website, some of which are "come and try it" events, meaning you don't need to be a member of a CTT-affiliated club.