British Cycling Brand Parcours Sign Francis Cade and Kyle Smith to expand their 2022 Athlete Roster
March 14, 2022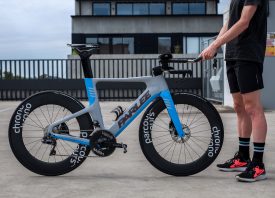 Cycling content creator Francis Cade and professional triathlete Kyle Smith join other top names in cycling and triathlon to form the 2022 athlete roster at Parcours
/ENDURANCE SPORTSWIRE/ – Parcours work with exceptional athletes across road, gravel, and triathlon to provide world-class performance and results in return for valuable insights and feedback from those at the top of their game. In 2021, Parcours partnered with triathlete Laura Siddall to create 'Sid's Squad', a mentoring program aimed to support the next generation of female triathletes. Following the success of this program, Parcours have expanded their athlete roster for 2022 to include Francis Cade, a video creator and adventure cyclist who rides and races across the globe, and Kyle Smith, a professional triathlete from New Zealand.
Francis decided to leave the world of cycle racing to enjoy the adventure side of the sport. Francis has since ridden in some of the world's most breathtaking but challenging locations, such as cycling through Death Valley in midsummer, climbing one of the highest roads in Europe – Col de la Bonnette in France – and adventuring through a jungle in Vietnam on a gravel bike.
Joining Francis Cade on the 2022 Parcours Athlete Roster, is Professional Triathlete Kyle Smith, who joins the established roster, including; Professional Triathlete and two-times Ironman 70.3 Champion Fenella Langridge, Laura Siddall, and Endurance Cyclist Chris Hall. New Zealand's Kyle Smith has been rising through the ranks as a triathlete, and has continued to find success throughout this journey. He has won both 70.3 Taupo and Challenge Wanaka with new course records in the process, and in his first season of long-course racing, qualified for the IRONMAN World Championships with a third place finish at his first ever IRONMAN race in Taupo.
Parcours will be supporting these top athletes by kitting them out with cutting-edge carbon bike wheels as well as expert advice, while the athletes will provide Parcours with regular testing feedback to help them continuously strive for perfection and improve their product offering.
Founder of Parcours, Dov Tate, said, "Our athlete roster for 2022 brings together a mix of some of the top names in cycling today and we are honoured to be working with them. Our athletes provide us with crucial feedback so that we can continue to improve as a business. We're very excited to have two adventure riders on board for this year in Chris Hall and Francis Cade, who will help to expand our collections and allow us to serve a broader range of cyclists."
Francis Cade said, "Cycling is an adventure and it's my passion to share my adventures with as many people as possible to inspire them to get into cycling too. With the help of the expert team at Parcours and their world-class wheelsets, I feel I can now push myself further than ever and explore a world of unlimited potential. "
For more information about the full range of Parcours wheels, please visit www.parcours.cc.
The team can also be found on Facebook, Twitter and Instagram.
———————————————————-ENDS————————————————————-
CONTACT
Sam Begg – Compete PR
+44 7860 568 812
NOTES TO EDITORS:
PARCOURS – meaning the 'profile of the race or stage route' – was founded in the summer of 2016 by Oxford University Engineering graduate Dov Tate, after he discovered that there was something missing from the market; an affordably priced and aero-tested wheelset. Using his background in engineering and passion for the sport of cycling, Dov decided to set out with the idea of creating just that.
Alongside long and demanding days in a high-paced role in the City, Dov spent the early part of 2016 reaching out to different suppliers to find out what materials they had to offer, and in the March of that same year travelled over to the US to begin some more comprehensive testing in a specialist wind tunnel in North Carolina. As part of this process Dov started to investigate where others had gone wrong, and indeed the routes in which he would be able to take in order to set Parcours apart from its competitors. Upon receiving the results, Dov was able to fully analyse the data recorded and look into trends in manufacturing, rim shape and design – from which some early wheel designs were drawn.
In early June 2016, Dov travelled all the way over to mainland China, to specifically research the materials and processes behind the development of the wheels. He explored different carbon layups, resins and components, to ensure that not only was he looking to create a fast and competitive aerodynamic wheel, but also one that would be able to withstand impact, with a build quality that made them durable and robust.
A few months later in the summer of 2016, Parcours was officially launched with three wheels headlining the new range – the Grimpeur, Passista and Chrono.
Since then, the Parcours range has been further developed to include full ranges for the road, time trial bikes and even as far as gravel. The Strade wheelset is an impressively fast all-road wheelset with proven aerodynamics and stability, and the Alta range can support on the roughest gravel trails to allow you to get the most of your off-road adventures.
Parcours has enjoyed some great successes over the years, and continually seeks to refine and develop its product range with new-generation wheels launched as new technologies emerge and trends evolve. More recently, Dov and the Parcours team have been working in collaboration with Dr Steve Faulkner from Nottingham Trent University to study in great detail the effect of wind angle on a bike frame and wheels, and will utilise this in future product design and wheelset manufacture.
Parcours wheels are the ideal choice for athletes that have an interest in tangible gains in their sport – those that want to see transparency and proven data, recognising the benefit that good aerodynamics can have on their performance.